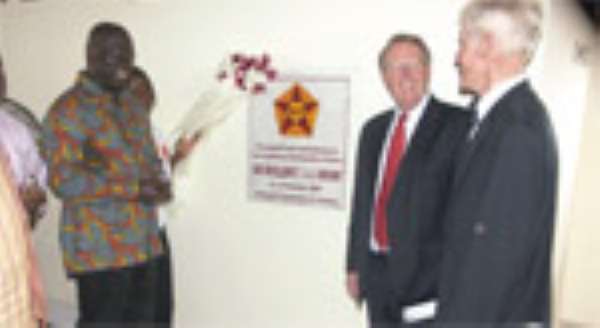 The Hon. Minister of Trade, Industry and PSI, Joe Baidoo-Ansah has on behalf of President J. A. Kufuor, commissioned the new Osei Tutu II Institute for Advanced ICT Studies, situated at the Guinness Ghana Breweries Limited's (GGBL) Ahinsan Brewery in Kumasi.
The institute, which will offer undergraduate and postgraduate courses in ICT and related studies, was established by Heineken International and the Dutch government in collaboration with Diageo/GGBL.
The Managing Director of GGBL, Mr Seni Adetu said from 2002 until the middle of 2003 research was carried out in Ghana to investigate the level of ICT programmes and the need for additional applied ICT education.
The result was the need to significantly improve both the knowledge base and the ICT course content in Ghana.
Mr Seni Adetu said to ensure that the institute compete favourably with the best in the world, a section of the Brewery office has been converted into an ultra-modern complex with ample lecture room space and state-of-the-art facilities.
He commended the Government of Ghana, for creating an enabling environment for investment. Additionally, he thanked Otumfuo Osei-Tutu II, Asantehene, for his guidance and continued support to GGBL.
The President of Heineken, Africa and Middle East Region, Tom de Man thanked all the organizations and individuals who have worked tirelessly and contributed in cash and kind to making the project a reality.
He specifically thanked Nurfic, a Dutch Governmental Organization, for their donation of 1.5m euros, Diageo, Heineken, Unilever for their commitment of 70,000 euros each per annum over the next 5 years, and Coca-Cola and Barclays for their sponsorship.
Prof. Martin Looijen, Rector of the institute, in a short speech stated that the mission of the college is to educate students from Ghana and other African countries to become professionals in ICT with the prescribed capabilities and attitudes required in developing applying and maintaining ICT related problems in industry and business.
He acknowledged the fact that the establishment is the first postgraduate ICT institute in Africa, and hoped students from other neighbouring countries would be encouraged to patronize its services.
He confirmed that the institute was accredited by the Ghana Accreditation Board and fully endorsed by the Kwame Nkrumah University of Science and Technology.
The President, represented by the Hon Minister of Trade and Industry and PSI, Mr Joe Baidoo-Ansah, took the opportunity to commend GGBL for its achievements and continuous contribution to the socio-economic development of Ghana.
Nicholas Nartey Tetteh