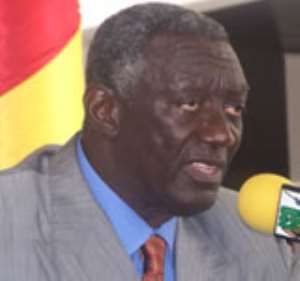 HIS EXCELLENCY, President J. A. Kufuor says the government of the New Patriotic Party (NPP) is on the verge of solving the country's energy problem by the establishment of the Bui dam and the purchase of electricity power plants located at different points across the country.
According to him, the move forms part of infrastructure development requirements made for both short and long term sustainability of reliable and efficient production and supply of energy for the country because energy is critical for economic development.
Speaking at the commissioning of a 20 MW-emergency-power plant in Kumasi , President Kufuor said instead of receiving praises for good work done, critics of his government continuously lampooned him without justifiable cause.
He indicated that if nothing at all, he was in the process of establishing the Bui dam that is comparable to the Akosombo dam put up by Ghana 's first President, Osagyefo Dr. Kwame Nkrumah of blessed memory.
He added that it was the vision of his government to quadruple the production and supply of the current energy by 2010 to ensure reliable electricity all the time for the country, hence, the purchasing of thermal plants to generate supplementary energy supply for the country.
The Deputy Minister of Energy, Mr. Kwame Ampofo Twumasi, stated that the energy crisis witnessed last year sent a clear signal to government for the need to invest both in short term and long term measures to take care of the energy requirements of this nation in a more systematic and planned manner.
"Indeed, Ghana, as a developing country, requires much more power in order to meet its growth targets and energy requirements," he pointed saying it would take significant investment to do so.
According to the Minister, it was estimated that Ghana required about $ 4.5 billon in the short term to medium and long terms to meet the country's infrastructure development requirements for reliable and efficient production and supply of energy.
He disclosed that government had pumped significant resources into the energy sector for the purchase of 126 megawatts of emergency power plants, which are speed-diesel engines and mobile caterpillar-modular units with capabilities ranging from 800 to 1,400 kilowatts.
Mr. Twumasi said a total of 392 megawatts of electric power was being provided as a short-term measure to address the power crisis in the country, including 126 megawatts of the emergency power plants, 10 megawatts plants belonging to the Ghana Armed Forces, 80 megawatts for Mines reserved power plant in Tema, 50 megawatts of the Wood Group and 126 megawatts by the Volta River Authority (VRA).
The President last Friday also commissioned the Suame–Roundabout–Maakro Street lighting project, which consisted of installation of fibre glass pole and mounting of street lights along the almost 3-km stretch of road.
In all, a total of 55 fibre glass poles were installed funded at the cost of GH¢300,000 by the Ministry of Energy.