Official Liquidator of Ghana Airways receives 260 creditor claims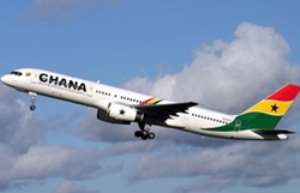 The Official Liquidator (OL) of Ghana Airways has since the commencement of liquidation received a total of 260 creditor claims amounting to US$209.0 million, excluding employee claims.
The total realization since commencement of the liquidation is US$17.3 million.
Mr Kwadwo Baah-Wiredu, Minister of Finance, who announced this on Thursday when presenting the 2008 Budget, said the Official Liquidator had concluded negotiations with a section of the ex-Ghana Airways staff and an amount of $2,000,000.00 is expected to be paid as down payment for their severance payment by the close of the year.
He said the Official Liquidator was expected to finalize creditor validations and also resolve matters in litigation to bring the liquidation to closure.
The OL will seek government's support to meet government commitment with regard to specific creditors, especially the staff of Ghana Airways, the Minister said.
On Ghana International Airlines Limited (GIAL), Mr Baah-Wiredu said, it would continue and complete its certification programme and also improve its network within the West Africa Sub-region.
The Ministry will also ensure the settlement of the ongoing litigation between Government and its partners. This is to allow the Ministry put in place credible management and invite private equity for a sustainable operation of the Airline.
Mr Baah-Wiredu said the Ministry of Aviation would develop an aviation sector specific policy and strategic plan to guide the direction of the sector in collaboration with the Ghana Civil Aviation Authority.
This will include the development of airstrips to cater for emergencies and also support tourism by the use of small aircraft to access remote areas.
The Ministry will also continue to review its bilateral agreements with African countries in line with the Yamoussoukro Decision (YD), which aims at liberalizing air traffic services in Africa.
In addition, the Ministry will monitor the rehabilitation of regional airports and other airfields in the country as well as the operations of domestic airlines with a view to extending services to other destinations within the sub-region and beyond.
Sources: GNA