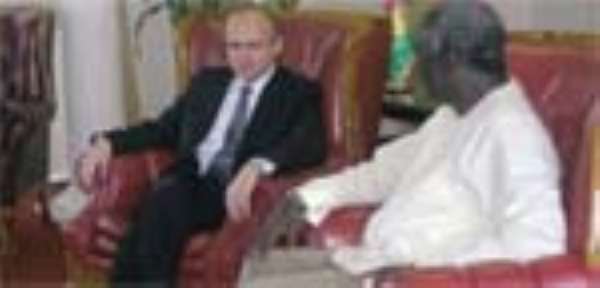 PRESIDENT J.A. Kufuor has reiterated his support for public funding of political parties. "If the public agrees that multi-party democracy is the best, then the public should be willing to bankroll it."
He indicated that though it was essential to fund political parties, "what needs to be addressed is a realistic formula for doing that".

President Kufuor made these remarks when he received the Secretary-General of the International Institute for Democracy and Electoral Assistance (IDEA), Mr. Vidar Helgesen, at the Castle, Osu.

The President observed that for the funding of political parties to take off smoothly, there would be the need to distinguish between serious political parties that "need support and mere adventurers who would like to take advantage of the system".

He noted that multi-party democracy is an expensive form of government, but also the best, observing however that the system risked being hijacked if it is left entirely in the hands of private interests for funding.
IDEA is an inter-governmental organization with 24-member states from six continents, and aims at promoting sustainable democracy worldwide.
Mr Helgesen, former Foreign Affairs Minister of Norway, who was accompanied by the IDEA's Director of Africa and Middle East, Dr. Abdalla Hamdok, commended Ghana for demonstrating leadership in democratic governance.
IDEA's Council is made up of Foreign Ministers of member states and chaired by Lena Helm-Wallen, former Deputy Prime Minister of Sweden.
Ghana was recently enrolled into the Institute and has been chosen as the regional capital for IDEA West Africa.
By Emelia Ennin