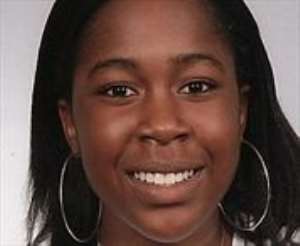 Cindy Bijl
The body of a 17-year-old missing Ghanaian girl from Oosterhout, Cindy Bijl, Sunday afternoon has been found in the Wilhelmina canal in Oosterhout, a Dutch town near Breda in the North Brabant province of the Netherlands, about 100 kilometres, southeast of Amsterdam, the capital. The Police, however, is not ruling out a possible murder as the cause of her death.
Since the Friday before, had the Police and the Dutch Institution in charge of Water Traffic had been searching for Cindy without any results, till help came from the Dutch organisation that specialises in using sniffer dogs to search for missing people, last Sunday morning. The dogs are specially trained to trace bodies underwater and this took the team the whole day searching all the aquaducts of the canal for Cindy.
Eventually the body of Cindy was found and recovered from the aquaduct Tilburgseweg, which forms part of the main canal upon a lead from the dogs, whereupon the team dived into the canal to pull out the body of Cindy, at around 4.30pm Holland local time.
The incident in the last week has attracted so much media attention nationwide that many witnesses had given leads to the Police and it was as consequence of these leads that made the Police call in the snifferdog search brigade (Stichting SIGNI Zoekhonden) leading ultimately to the retrieval of Cindy's body.
Cindy Bijl had been reported missing since Monday evening, 5 November, this year.