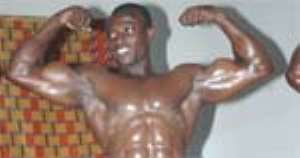 A group of bodybuilders from the Northern Sector of the country have thrown a challenge to their colleagues in the Southern Sector almost two weeks ahead of the National Bodybuilding Championship slated for November 23, at the Osu Presby Hall.
The bodybuilders, made up of the likes of Peter Awuah, Kofi Salia, Mohammed Abdul Akim, Awuah Mensah, Isaac Owusu Mensah, Sadiq Abdul Rahaman, Musah Attah, Samuel Baidoo, Moh Vitus, Stephen Bonsu, Christopher Adams and Louis Gborson GNA Sports that they are determined to wrestle the title from the Southerners despite the fact that they are only just making their maiden appearance in the competition.
The bodybuilders, drawn from Ashanti, Brong Ahafo, North, Upper East and Upper West Region said they are in the competition to prove a point and will go all lengths to achieve their aim.
Kofi Salia said, "We would want to point out that this is the first time we are participating in the contest.
"We are therefore calling on fans from these regions to rally behind us and cheer us on to victory".
Mohammed Abdul Akim added that the likes of Obour, King Sabato, Arnold Aryee, among others are going to have a battle of their lives, "because we are going to show them real 'muscleflavour' this year".
The competition is under the auspices of the National Amateur Bodybuilding Association and the Ghana Bodybuilding and Fitness Association. GNA