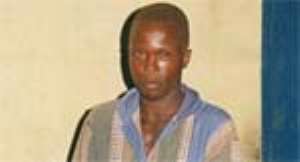 The Sunyani Police Command yesterday dispatched a number of personnel to Enchi in the Western Region to arrest a man who allegedly contracted Thomas Kwame Amponsah to behead 8-year-old Emmanuel Adjei.
The man, whose name was only given as Yaro, was suspected to be a ritual murder agent whom Thomas was to sell the head of Emmanuel to.
Amponsah, 34, murdered Emmanuel, a class two pupil at Bechem in the Tano South District of the Brong Ahafo Region.
Three months ago, Amponsah, a farm labourer at Enchi, reportedly returned to Bechem, his hometown after concluding a deal with some ritualists who promised to give him ¢120 million if he could provide them with a human head.
He was said to have had a dream of owning a BMW car, even before he sprang into action.
In a bid to become an instant millionaire therefore, the accused on November 4, 2007, asked his neighbour's son to assist him to pick oranges from a nearby bush.
Halfway through the journey, about three hundred metres away from the western end of the Bechem Roman Catholic School, the accused clubbed down Emmanuel and slashed his throat with a sharp knife, after which he severed the boy's head from the body.
According to the deputy regional CID boss, ASP Emmanuel Yartey Lawson, Amponsah then concealed the decapitated head in a jute bag and joined a vehicle to Dadiesoaba near Enchi to supply the 'goods' to the said ritual agent who allegedly contracted him.
Luck was however not on his side, as he was arrested by personnel of the community protection unit otherwise known as 'Yellow Police', and handed over to the police.

The prosecutor, Chief Inspector Adayuga, said at Dadiesoaba, a resident instantly became suspicious when the suspect asked about Yaro.
The resident immediately called in the Dadiesoaba community police who arrested Amponsah and handed him over to the police at Tarkwa.
A search on the suspect exposed the human head, he added.
Upon interrogation, Amponsah initially claimed that he got the head from Dwenewoho, near Techiman, but following an appeal on radio by the police for identification of the head, the deceased's uncle, Pastor Stephen Anin travelled to Tarkwa and identified Amponsah.
The police boss said it was then that the suspect confessed, saying the head was that of Emmanuel Adjei, who had been reported missing.
He disclosed that the police at Tarkwa then handed the suspect and the decapitated head to their counterparts at Bechem to continue with investigations.
The prosecutor said because of the tension at Bechem, the police moved the suspect and the head to the regional police headquarters in Sunyani. A machete which was retrieved from the crime scene was being kept as exhibit at the regional police headquarters.
Kwame Amponsah has since been put before the Sunyani Magistrate court presided over by Albert Zoogah. He has been remanded in prison custody and will reappear in two weeks.
From Rocklyn Antonio, Sunyani