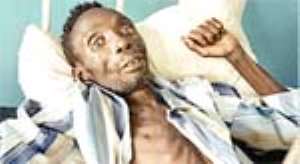 Government's effort to combat the HIV/AIDS menace has been given a boost by Global Funds, an international non-governmental organisation, with the granting of $7 million to Ghana to expand projects for People Living With HIV/AIDS (PLWH).
The Global Fund to Fight AIDS, Tuberculosis and Malaria was created to dramatically increase resources to fight three of the world's most devastating diseases, and to direct those resources to areas of greatest need.
Speaking to newsmen in Accra at the weekend after a tour of the Northern Region to inspect and interact with PLWH, Mr Rocky Dawuni, a Ghanaian Afro Roots Reggae star and leading promoter of Global Funds projects in Ghana explained that the funds partnership with governments, civil society, the private sector and affected communities, was to assist PLWH.
He explained that the grant to Ghana through the Ministry of Health under the National AIDS Control Programme (NACP) would focus on a comprehensive approach to AIDS through preventive measures and treatment based on locally determined needs.
He said a portion of the grant would also be used to provide antiretroviral treatment, stressing that the project would focus on young people who comprise 40 per cent of all new infections worldwide.
He said the fund actively seeks to complement the assistance of donors and catalyze additional investments by other donors.
Mr Dawuni said the substantial infusion of resources would enable Ghana to scale up existing programmes to a level commensurate with need.
He said it was evident that science-based HIV prevention was effective, especially when backed by high-level political leadership, a national AIDS programme, adequate funding, and strong community involvement.
He encouraged media practitioners, politicians, Members of Parliament, Ministers of State and the general public to get involved in the fight against HIV/AIDS.
Mr Dawuni said prevention efforts should also involve clear and accurate communication about HIV/AIDS and methods to prevent infection, HIV counseling and testing, and treatment of sexually transmitted infections.
The vast majority of people living with HIV/AIDS in the developing world do not have access to treatment, as a result of limited health care infrastructures and the high cost of many medications.
GNA