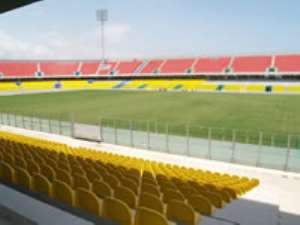 The Ga Dangme Traditional Council is asking Government to revert to the use of the name 'Accra Sports Stadium' instead of the Ohene Djan Stadium.
The council says the use of the former sports administrator's name is an affront to the respect due them because Ohene Djan was an ex-convict who does not deserve the honour.
President Kufuor on Sunday commissioned the rehabilitated stadium which will be the major venue for key matches of the Ghana 2008 tournament, under the name Ohene Djan Stadium.
There has been not let in resistance to the use of the name since government conferred the honour on one of Ghana's acknowledged sports administrators some three years ago.
Speaking to Joy News, Nii Samoa Okropong who is the Mankralo of Sempe Odupong Kpehe said the official commissioning of the stadium last Sunday as the Ohene Djan stadium by President Kufuor was an affront to the natives of the land and called for its immediate reversal by the government or face court action.
The Council claims government has treated them with disrespect in refusing to respond to a petition presented to the President in April 2004.
"Ohene Djan is not fit to be accorded this position. Ohene Djan is an ex-convict. He was a staff of the Ministry of Finance and he falsified documents in the award of contracts for the construction of roads in the Volta Region. It is an affront to name the place Ohene Djan Stadium…" he told Joy News.
The Stadium hosts a number of matches in the coming week, including Ghana's crunch encounter against Nigeria in the Olympic qualifiers on Friday November 16, with kick off at 3:30pm.
Other games are matches of the 4-nation tournament involving Ghana, Benin, Togo and the UAE. Togo and Benin kick off the tournament on Saturday, November 17, followed on Sunday by Ghana against the UAE.
Third place match involving the losers as well as the final game are on Wednesday, November 21. With the exception of the final game which follows immediately after the third-place game, kick off for all the matches is at 3pm.