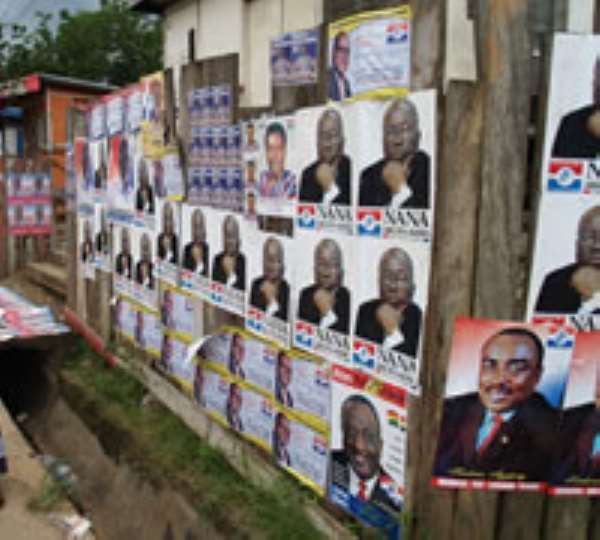 Flagbearer aspirants of the New Patriotic Party risk being taken to court for littering the metropolis with their posters.
The Accra Metropolitan Assembly says the action is a violation of its bye laws, which can land offenders in jail if they persist. Public buildings and structures in the metropolis such as the Ako Adjei interchange and the Cape Coast Mallam Highway are awash with posters of aspirants who are using any available space to promote their candidature.
The AMA says the situation is worrying, particularly since the Assembly has mounted 25 public notice boards throughout the metropolis this year alone for such purposes.
Mr. Ali Baba Abature, special aide to the AMA Chief Executive, told Joy News' Araba Koomson that a special taskforce will be undertaking the removal of the posters by Saturday, after which offenders who persist will be prosecuted.
"They are offenders because they are posting posters at the wrong places. We wrote letters to all of them perhaps if they are not aware, it is an offence to post posters anywhere; the feedback we got was that their agents or sympathizers out of over zealousness were engaged in that and they assured us that they will call them to book but we have seen that it is rather on the increase…"
Also in the Ashanti Regional capital Kumasi, the situation is no different.
Posters, banners and in some cases billboards mostly of NPP flagbearer aspirants are competing for space with other advertising materials on both public and private landmarks.
The dominant presence of the paraphernalia has attracted varied comments from residents. While some see them as good publicity to convince and swing delegates in favor of the aspirants, others complain they are a waste of resources since it is not the general public that would be voting to elect the flagbearer.