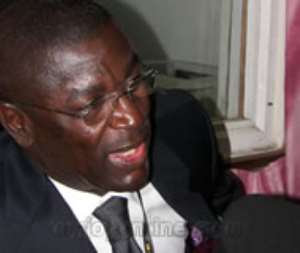 Ghana would not be able to achieve the needed economic and developmental growth if she continued to bend the rules to suit people in high offices, Mr. Prince Kofi Amoabeng, Chief Executive Officer of Unique Trust Financial Services said on Monday.
He said the attitude of the people was a basic problem the country faced and even "some aspects of our culture make us timid... our systems should work."
Mr. Amoabeng made the observation at the 47th Annual General Meeting Lectures of the Ghana Employers Association on the theme: "Promotion of Sustainable Enterprise: The Role of the Social Partners."
The lecture, which was held as a form of symposium attracted contributions from the floor during which Mr. Amoabeng stressed that the country's systems were such that, "If you are poor in Africa, I beg you, you have a problem, people always ask who are you before they extend any courtesies to you as an individual."
Mr Amoabeng said the current economic status of Ghana was backward as compared to the time of its independence when Ghana as a country had 3000 dollars per capita income.
"Our problems in Ghana and Africa as a whole is caused by us, our culture, our beliefs, our upbringing, and even though we have plenty of laws they were simply not working."
Mr. Kwasi Adu Amankwah, General Secretary of the Ghana Trade Union Congress said, promoting sustainable enterprises depended more on employers and noted that too few people were able to work with others because of lack of trust.
He said workers were not mere economic animals and to derive the maximum from them, they be given "an important stake in enterprise, there should be fix employer-employee relationship, and they must be provided with positive working environment.
Mr Adu-Amankwah urged government to reward enterprises, which engaged in training of their personnel and added that monetary reward was absolutely necessary in the country where economic hardships prevailed.
"Paying workers well reduces the tendency of shirked responsibility," he said and called on employers not to exploit their workers.
Mr. Kwaku Agyeman-Manu, Deputy Minister of Trade, Industry, President's Special Initiative and Private Sector Development, said government had created the enabling environment for the private sector to grow.
He said many enterprises suffered from a number of industrial weaknesses like low productivity, low technological know-how among others and called on enterprises to target production of higher valued goods.
Mr Agyeman-Manu said there is macro economic stability in the country which the business community should take advantage of.
Nana Fredua Agyeman Pambo, who chaired the function challenged government to ensure that the country reached the target of 1000 dollars per capita income with an eight percent GDP growth rate.
Comparing the job market to marriage, he said, it was important that jobs created were sustained and noted that like marriage it was easy to get married but sustaining the marriage was the bigger problem.
"Job creation is one thing, sustaining a job is the real challenge," he said.