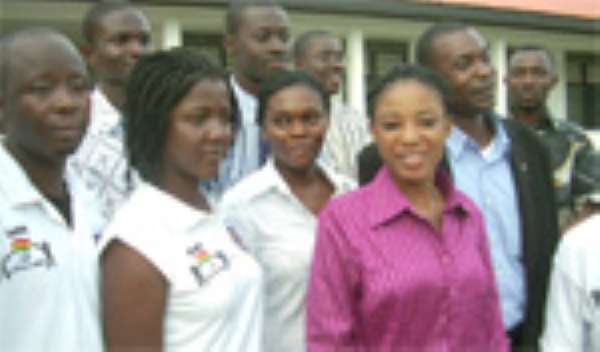 Kosmos Energy, the first exploration company to identify abundant oil on the western coast of the country, says it will drill four more wells before the end of the year to add up to the already existing two drilled wells.
This, according to the American Oil Exploration Company, will enable it identify sufficient oil reserves in Ghana.
"We are going to drill more appraisal wells and every well that would be drilled is expected to inform us about the quantity of crude oil that the country possesses," George Y. Owusu, Country Manager of Kosmos Energy told CITY & BUSINESS GUIDE on the sidelines of a forum organized by the Society for National Affairs (SONA) of the University of Ghana last Thursday.
While it drilled and discovered Mahogany-1 well in West Cape Three Points Block in June this year, it confirmed significant find by Hyedua-1 well, which was drilled in the Tano Deepwater Block in August, 2007.
The high quality oil was struck 40 miles deep into the sea in the west of Cape Three Points, near Axim.
It will be recalled that Kosmos Energy, Anadarko Petroleum and Tullow Ghana Limited simultaneously announced the discovery of oil in commercial quantities at west of Cape Three Points in the Western Region.
Though Mr. Owusu cannot state the date that production will begin, he said his outfit will work around the clock to ensure that production commences soon.
He remained optimistic that the production of oil will be several millions of barrels.
Outlining future programs of the company, Mr. Owusu said the company will carry out new exploration drilling including at least 1 well in 2008. Furthermore it will evaluate early production options involving floating, production and storage offloading vessel.
On economic benefits for government, he indicated that government's benefit will be approximately 60 per cent of oil income with the Ghana National Petroleum Authority (NPA) getting 10 per cent participation. It will also benefit 2.5 per cent additional participation interest.
He explained that the oil discovery is expected to bring positive benefits to the country as it is expected to change business practices dramatically. Many Ghanaians would secure jobs through the oil production, he added.
On community relations, he noted that Kosmos will focus on 4 thematic areas including partnering organizations to promote the eight Millennium Development Goals (MDG's) as well as facilitate standard setting in the industry.
Dr. Kwesi Jonah, Patron of SONA urged civil society groups to always be vigilant on government to avert corruption and poverty among the people as pertains in other African countries.
By Charles Nixon Yeboah