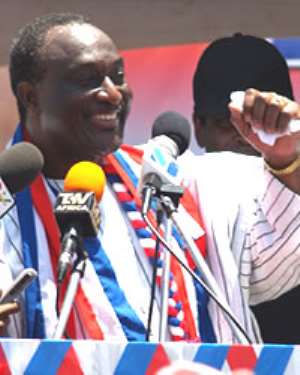 Mr. John Alan Kyerematen, has fired a salvo at the regime that ousted the constitutionally elected government of the People's National Party (PNP) from office on December 31, 1981.
He lamented that, the premature end of that regime through a coup d' etat led by former President Jerry John Rawlings, robbed the late Dr. Hilla Limann of his zeal and chance to contribute his quota to the development process in the country.
The NPP presidential aspirant made those charges when he paid respect to the family of and visited the graveyard of the late Dr. Hilla Limann, the only president of the Third Republic of Ghana.
"The achievements of this great hero of Ghana should remind all Ghanaians of the need for selfless sacrifice for the progress of the nation," Mr. Alan Kyerematen said, and added, "Political instability could not allow Dr. Hilla Limann to contribute his maximum efforts for the country's development."
Mr. Alan Kyerematen stated, "Dr. Limann is not an asset for the north alone, but he is indeed a national asset."
He promised to uplift the tombstone of the late president to the status of a national monument if he becomes president of Ghana.
A spokesman for the family of the late President expressed his appreciation for the honour done them and the memory of their beloved and for Mr. Kyerematen's visit, and then went on to encourage him to pursue his laudable goals for the benefit of the country.
While in the north, the former Minister also took time to visit the flood victims in the three northern regions.
Mr. Alan Kyerematen presented a check of GH¢ 10,000.00 (¢ 100,000,000.00), one hundred and fifty bags of maize, hundred bags of rice, fifty bags of sugar and other items to the regional minister to assist the efforts at bringing relief to the victims of the disaster.
The Regional Minister, Alhassan Samari, who received the donations expressed his profound gratitude to the presidential aspirant and wished him well in his activities in the region.
He expressed his commitment to initiate extensive disaster prevention measures, particularly, the de-silting of the main water bodies re-strengthening of disaster management capacity of appropriate agencies in the region.