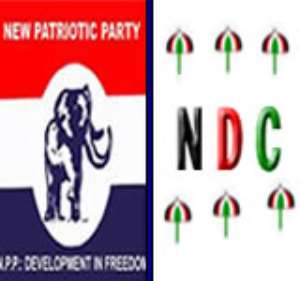 Play the attached audio to listen to the District Police Commander who spoke to Joy News' Bismark Avornu.
The ruling New Patriotic Party and the opposition National Democratic Congress, are on Sunday afternoon descending on Akatsi in the Volta Region for fund raising and membership drive rallies.
The NDC rally, expected to be addressed by former President Jerry John Rawlings, is to be held at the Akatsi Roman Catholic Church while the NPP will be gathering at another spot in the same district capital.
There had been concerns that followers of the two opposing parties could clash after the Akatsi District Police said it had not approved the rally by ruling party because no official permission had been sought, however NPP Chairman, Peter Mac Manu says the District was big enough to contain the two parties and assured that there would be no violence.
Mr. Victor Smith, Special aide to the ex-President has told Joy News that though Mr. Rawlings will be at the event to help mobilize funds, he will comment on the recent chieftaincy violence at Anloga and will not mince words on the chieftaincy disputes in the area.
The Akatsi constituency executives of the NDC say the fund raising rally is in support of the party's activities in the area.
According to Mr. Anthony Kofi Abledu, District Chief Executive for Akatsi, the NPP informed the police verbally of the intended rally and after a visit with the police to the venue, the latter approved of the event.
"My Chairman had talked to the Police Commander that we were going to hold something like this. But it looks like since he was not sure when it was going to come on, he didn't write for permit officially. We've been talking with the police since yesterday. We took them to where we are going to hold the meeting, they have gone to see the place and they are satisfied with our meeting place…"
But the District Police Commander, ASP Isaac Addo has told Joy News the NPP would be breaching the Public Order Act if the party goes ahead to hold any public event. The Act prescribes at least five days notice to the police prior to holding any such public event and maintained that the NPP had not complied with the provision.
(Play the attached audio to listen to the District Police Commander who spoke to Joy News' Bismark Avornu.)