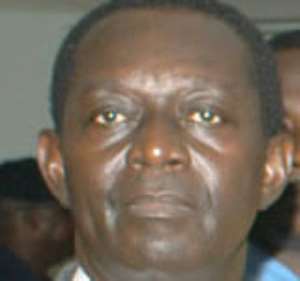 Dr Kwame Addo-Kufuor, one of the aspirants of the New Patriotic Party (NPP) for the position of flag bearer for the 2008 general elections has denied media reports attributed to him for the other contestants to submit themselves for forensic audit to render accounts for their stewardship.
Speaking to the GNA, Dr Addo-Kufuor refuted the reports that he asked the other contestants also to submit themselves for such check when he went to file his nomination last week at the NPP headquarters.
According to media reports he was cleared in the audit report and so challenged the other candidate to follow suit if they did not have anything to hide.
The former Defence Minister explained that what he said was that since he eyed the leadership of the party he felt the need to guide against his name and reputation and so decided to submit all contracts that passed through his hands for auditing to strengthen the confidence that he had built over the years.
"I don't have the authority to call on the other aspirants to do the same. It is their prerogative anyway" he said and chipped in "well those who may have skeletons in their wardrobes will fear forensic audit but not open heart and free mind", Dr Addo-Kufuor added.
In a reflective mood he stated that, "From all indications this government has performed so creditably in the socio-economic sphere and our brothers on the other side of the political divide have nothing to point except their perceived corruption label against officials and the government that such an audit will erase".