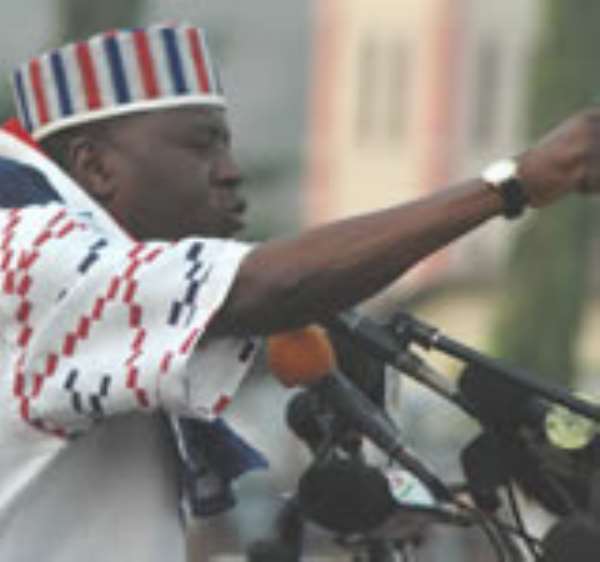 Vice President Aliu Mahama on Saturday predicted that his election as a flag bearer of the ruling New Patriotic Party (NPP) would ensure a smooth transition of power in January 7, 2009.
Describing President John Agyekum Kufuor as the headmaster of Ghana , he said it was logical that if the head of state was stepping down after two terms in office, he as the assistant headmaster should take over.
Vice President Mahama made the prediction when he addressed an emergency session of the Amasie East District Assembly at Bekwai in the Ashanti Region.
"Succeeding (President) Kufuor is logical. I am not asking for too much," he said,
Alhaji Mahama told the cheering assembly members that the elevation of the District to a municipal status would facilitate the rapid development of the area.
He advised the assembly members to ensure a bottom-up approach to development issues in order to facilitate the mass approval and ownership of projects.
"Implement projects that will touch the heart of the people," he told them.
Touching on revenue generation, he tasked the assembly members to ensure transparency and efficiency in the process to net more money for development.
Mr Richard Aboagye. District Chief Executive, said since 2001, the Assembly had implemented 100 projects in the education sector including expanding libraries, teachers' accommodation and school blocks.
Addressing the chiefs an people of Tepa, the Vice President said government was focused in forging partnership with traditional authorities to facilitate development.
Announcing his candidature for the NPP presidential race, he said he had carried himself very well and would therefore pose no marketing problems for the party.
"I know the problems of the country and I have the medicine for it."
The Tepahene, Nana Edusei Atuenawa Ampim called for the tarring of roads and the sealing of a life-threatening manhole in the town.
Vice President Mahama is on a four-day official visit to Ashanti and Brong Ahafo regions.