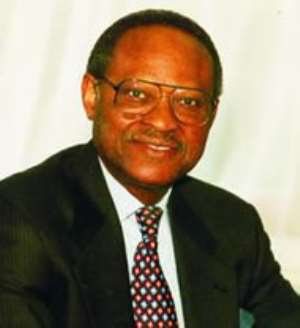 The University of Cape Coast (UCC) on Saturday conferred Honorary Doctorate Degrees on Chief Emeka Anyaoku, a former Secretary-General of the Commonwealth, and two eminent Ghanaians, Maulvi Wahab Adam, Ameer and Missionary in charge of the Ahmadiyya Muslim Mission and Alhaji Asoma Abu Banda, an entrepreneur.
At a special congregation held by the University, Chief Anyaoku received an Honorary Doctor of Letters Degree, Maulvi Adam, an Honorary Doctor of Theology Degree and Alhaji Banda, an Honorary Degree in Entrepreneurship.
Saturday's conferment brings to 32 the number of eminent personalities awarded by the UCC between 1972 and 2007. They include President John Agyekum Kufuor and South African President Thabo Mbeki who received their honours in 2003 and 2007, respectively.
The ceremony climaxed a three-day 'Seventh series of the Kwame Nkrumah Memorial Lectures' which began on Wednesday, under the theme: "The condition of Africa: A cramp in the will".
Chief Anyaoku delivered all three lectures on the topics, "Independent Africa and the world", "The cramping of the will" and "Recovering the will for reconstruction and development".
In a citation accompanying Chief Anyaoku's Honours, the UCC described him as an accomplished diplomat, democrat, human rights advocate and a role model, saying he was being honoured in recognition of his distinguished service to his country, the international community and to humanity.
The former Secretary-General, who is currently the International President of the Worldwide Fund for Nature in Switzerland, already has 28 similar honours conferred on him by universities in Britain, Canada, Nigeria, South Africa and Zimbabwe.
The UCC described Maulvi Adam as a promoter of peace, saying he was being honoured for his meritorious and distinguished service to the nation, the international community and humanity.
It described Alhaji Banda as an entrepreneur, shipping magnate, a philanthropist and role model who had made similar contributions towards the advancement of humanity.
In an address, Professor Emmanuel Addow-Obeng, Vice-Chancellor of the UCC, said the Kwame Nkrumah Memorial Lecturers, was the university's way of paying tribute to "a man, whose vision, nationalism and distinctive sense of African globalisation", was based on freedom and justice.
He noted that although Dr Nkrumah was not without his political shortcomings, he was never guilty of a "certain kind of narrow-mindedness", and "his significance as a political leader was never obstructed by tribalism".
He said Nkrumah lived a simple lifestyle, which made him different from his contemporary African leaders, and cited a recent news report that a group of politicians planned to open a university at Nkroful in honour of Dr Nkrumah.
He noted that although the proposed project was praise-worthy, the irony was that 35 years after his death, somebody was considering such a project "in the hometown of a man who is most responsible for higher education in Ghana".
According to Prof. Obeng, lessons drawn from Dr Nkrumah's life were self-denial and simplicity of personal life, and that in Ghana today, it was clear to all, even to his critics, that the expression that "Nkrumah never dies", was true.
He noted that in the short years of his presidency, Dr Nkrumah laid foundations that enabled Ghana to survive, and that his unique sense of vision and his all-encompassing national ideals, enabled him to plan Ghana's development "as if all of Ghana was his village, not just Nkroful".
He said the greatest legacy to all was his commitment to the good of Ghana and Africa in general, and that he aspired to be different from others whose interest was not for their people but rather to amass personal wealth.
Prof Obeng, however, expressed worry that the ideals of Dr Nkrumah were being lost to Ghanaians and Africans, with politics in the country gradually becoming tribal centred.
"The horizon of our politicians, in some cases, does not extend beyond their villages and at best their region or parties. Ethnicity is seriously creeping back into our way of life therefore destroying the unity that Nkrumah fostered in the country," he observed.
Prof Obeng enumerated other social vices that, he said, were destroying the society and further observed that professionalism was now being sacrificed on the altar of money.
He commended the three personalities being honoured for rising above such challenges, describing them as selfless, innovative and humble men and that they served humanity through hard work.
Chief Anyaoku expressed gratitude for the honours and noted that African universities, particularly those in commonwealth Africa, had come a long way "from the universal tradition of cloister learning" to become part and parcel of their respective national aspirations.
He expressed concern that Africa lagged behind in the digital revolution, which was an important aspect of the globalisation process, and that all indications point to the fact that Africa is the least developed in information communication technology.
Chief Anyaoku stressed the need for a real and effective partnership between governments and institutions of higher learning, which he said was the "winning formula" to test the "sincerity of governments and the ability of the universities".
He said the UCC in particular had a special responsibility to place Africa at the forefront of the revolution in ICT and was happy about facilities he had seen on the UCC campus.
Chief Anyaoku received a Kente cloth from the University while all three honorary recipients also received gifts from the UCC alumni.