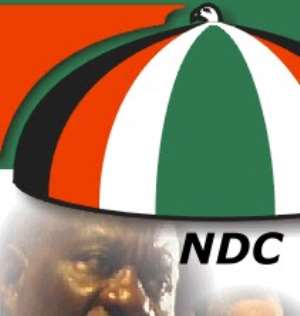 This divisive gimmick worked in 1949, when a group of upstarts and political charlatans finessed Kwame Nkrumah into forming his so-called Convention People's Party (CPP). And to be certain, to this day, it still surprises many a well-meaning Ghanaian, such as yours truly, how a non-party rag-tag posse of virtual gangsters tautologically and amateurishly calling themselves the Convention People's Party, was able to blindside their more seasoned elders and patriotic mentors by hoodwinking Ghanaians into naively entrusting their country's destiny into the hands of such myopic and self-serving "leadership."

Nearly 60 years later, the CPP has very little, short of vacuous slogans, to show for its leadership's political misadventure. And, needless to say, Ghanaians continue to reel from the profligate and pseudo-socialist policies of the Nkrumah Corporation.

Now, quite intriguingly, comes another opportunistic band of cynics touting the formation of a new non-party political party called Reformed Patriotic Democrats (RPD) and shamelessly, if also criminally and fraudulently, claiming to be a breakaway faction of the ruling New Patriotic Party (NPP). Fortunately, some leading members of the NPP who have been identified as potential subscribers to the protean and as yet unarticulated tenets of the so-called Reformed Patriotic Democrats, have swiftly unleashed their righteous indignation as well as issue their unreserved condemnation of this pathetically devious and porous attempt by a bunch of societal cormorants to take undue advantage of unsuspecting Ghanaian voters ( see "NDC Linked to New 'NPP' Party," Ghanaweb.com 10/22/07).

Indeed, the very name of Reformed Patriotic Democrats is rather quaint; for it unmistakably appears to be the vintage handiwork of a two-mouthed and forked-tongue gang of political journeymen, and perhaps women as well, who are out to minting a quite impossible, and patently unsavory, ideological marriage between the ruling New Patriotic Party (NPP) and the so-called National Democratic Congress (NDC), in chimerical hopes of bettering the chances of the latter posse of certified and constitutionally-indemnified assassins and butchers returning Ghanaians into another protracted season of mini judicial genocide. It is very much like a ship's captain accidentally discharging a tanker filled to capacity with crude oil into the Gulf of Guinea at, you guessed right, midnight; with the crime-prone pilot pathetically hoping to suavely elude capture, as well as the proverbially long and deliberate arm of judicial scrutiny. Of course, we all know that such "peekaboo," or toddler's prank, has absolutely no place and role, whatsoever, in Fourth Republican Ghana.

And while we are still at it, talking of surreptitious oil spillage, that is, this lurid machination of the so-called Reformed Patriotic Democrats is not a pretty sight at all! And, needless to say, no one ought to be in the least bit surprised, really, should it turn out shortly that the desperate snake-oil retailers of both the so-called National Democratic Congress and the CPP are smack-dab in the details, as it were.
Quite recently, for example, Mr. Bright Akwetey made it loud and clear to potential Ghanaian voters of Election 2008, that the rump CPP was hell-bent on drafting Professor John Evans Atta-Mills back into its fold. It appears that the rump CPP has diffidently, albeit aptly, read the proverbial handwriting on the wall and is hoping against all hopes by grabbing at straws. And the latter is precisely about all that the rump CPP is capable of achieving; for many a well-meaning and patriotic Ghanaian is deathly determined never to witness an apocalyptic reprise of Convention People's Party dictatorship. Even the Russians and the Chinese have far and long moved past the regressive, parasitic and deservedly ossified ideology of Marxist-Leninism. And to the latter, of course, one may generously add the sophomoric pathology of Nkrumaism.

Indeed, the so-called Reformed Patriotic Democrats may well be an offshoot of Dr. Obed Asamoah's so-called Democratic Freedom Party, or even the former's source of inspiration. The DFP, needless to say, is a brazen power-poaching organization that has absolutely no track-record of inducing either a democratic or liberal political culture in postcolonial Ghana. In any case, yours truly is still intrigued by the name of Mr. Kwabena Adjei, the alleged chairman of the so-called Reformed Patriotic Democrats. The name, of course, rings more like something concocted by Chairman Jato Dzelukope. And to be certain, any Ghanaian who firmly believes that both Mr. J. H. Mensah and Professor Adzei-Bekoe are stumbling blocks in the path of Ghana's development must have slept through most of the late 1970s up until the year 2000. Such individual may also likely sport squinted eyes, or he is simply an irredeemable idiot! Let's hope, of course, that yours truly is totally wrong, otherwise Ghanaians may well require a state-of-the-art nuclear missile to protect ourselves against these pathological fools in our midst.

It is also a crying shame that the so-called Reformed Patriotic Democrats have succeeded in securing an "interim certificate" of registration, I believe, from the Electoral Commission (at the time of this writing). One wonders whether anybody at the Commission's headquarters bothered to enquire of the RPD's interim chairman exactly what his party has "reformed" itself against, before issuing its woefully misguided capo an interim certificate. Let us hope that all that the EC ever issues the RPD is an interim certificate!
*Kwame Okoampa-Ahoofe, Jr., Ph.D., is Associate Professor of English and Journalism at Nassau Community College of the State University of New York, Garden City. He is the author of "When Dancers Play Historians and Thinkers," a forthcoming essay collection on postcolonial Ghanaian political history. E-mail: [email protected]aol.com.