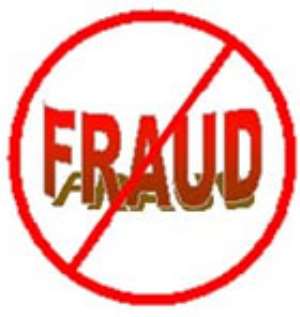 A senior accountant at the Controller and Accountant-General's Department (CAGD) and an Accra-based businessman have been grabbed in the latest scandal to hit the CAGD.
Seth Bosompem, the accountant, and Stephen Trevor Hosiosky, alias Anderson Lokko, are in custody for allegedly defrauding the state of GH ¢245,645.73 (¢2.4 billion). They were arrested when they went to the bank to cash the money.
A source close to the Bureau of National Investigations (BNI) told the Daily Graphic Wednesday that the CAGD, on September 12, 2007, received a letter from the Ministry of Finance and Economic Planning to pay Facol Roads Limited GH¢245,645.73 for road marking and traffic signs undertaken on the Kumasi - Mampong, Mankessim - Tetsi, Ejisu - Kumawu - Wuraso, Obuasi - Dunkwa - Ayanfuri and Kumasi - Sunyani roads.
It said Bosompem accordingly processed payment documents and sent them to a Deputy Controller, Madam Grace Adzroe, on September 19, 2007 to be signed.
It said the documents were then forwarded to the Bank of Ghana (BoG) to credit the accounts of the Ministry of Transportation in favour of Facol Roads Ltd.
According to the source, Bosompem, on September 24, 2007, again used the same Ministry of Finance release letter to process another document and this time gave it to the Controller and Accountant General, Mr Christian Sottie, to sign and the letter was instructing the BoG to pay the same amount to the accounts of the Ministry of Transportation in favour of Facol Roads Ltd.
It said this time round, Bosompem forged a Facol Roads Ltd letter directing the BoG to make direct payment into a personal account number 006020202331 being operated at the Airport Residential Area branch of the Zenith Bank.
The source said it was later detected that the account was owned by Stephen Trevor Hosiosky.
He said the bank detected that the account name did not tally with the account number in their books and alerted Mr Sottie to cross-check the accounts details.
The BNI was then informed to investigate the matter.
According to the source, Stephen went to Zenith Bank on October 19, 2007 to fill transfer form for the money to be transferred into his personal account and he went to the bank on October 26, 2006 to cash the money but was arrested.
It said a cheque with the face value of ¢360 million which Stephen had issued in the name of Boskin Company Ltd of which Bosompem was a director was retrieved from him.
It said Stephen mentioned Bosompem as his accomplice after he was arrested.
The source said when Bosompem was arrested, he did not deny the allegations.
The source said they had been provisionally charged with conspiracy, forgery of official documents and attempted stealing.