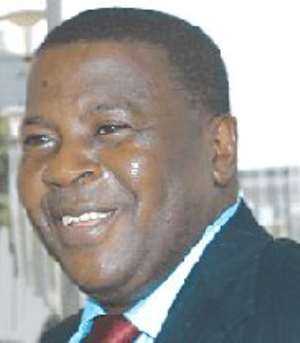 Aliu Mahama - Ghana's Vice-President
Ghana's Vice-President Aliu Mahama yesterday appeared at the Kokomlemle headquarters of the ruling New Patriotic Party, well psyched to defend his eligibility for the party's flagbearership at the December Congress.
But he had the shock of his life when he realised that there was no sign of anybody present for the highly publicised vetting.
However, in a quick reaction on an Accra radio, Mr S. Odoi-Sykes, a member of the committee, said the problem arose as a result of a communication problem between the committee chairman and the secretary.
When Alhaji Mahama arrived at the venue with core members of his campaign team for the vetting, the only official present to receive him was the caretaker of the premises who only told the Vice-President that nothing had been scheduled at the venue.
After a few minutes, he entered and sat for about 30 minutes but there was still no sign of any of the committee members or any official of the party to explain to him why the process could not come on.
Outside the hall, some supporters of the Vice-President were in utmost shock and disbelief as they stood in groups to discuss among themselves what they described as an "unfortunate incident".
Visibly disappointed through both his voice and demeanour, he said, "These are some of the problems but I believe it shall all come to pass."
"I still love the party" Alhaji Mahama said and repeated that "these are some of the problems but I will continue do what I have planned".
Alhaji Mahama declined to answer questions from the highly expectant newsmen and only said, "That is all I have to tell you."
Story by Charles Benoni Okine