Essikado Chief receives Ndoum at PalaceTHIS GUY IS NOT FOR HIS BELLY ... like some who came in revolutionary slippers and left in jaguars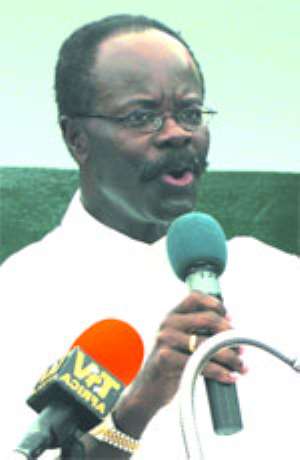 THE Omanhene of Essikado traditional area Nana Kobinah Nketiah (V) has noted that though chiefs are not supposed to do politics, he believed Dr. Papa Kwesi Ndoum, an aspiring presidential candidate of the Convention Peoples Party (CPP) is not in the race to amass wealth for him self, but to serve the people of his party and Ghana as a country.
For wanting to step in the shoes of the first president of the republic Osagyefo Dr. Kwame Nkrumah, the Omanhene advised that Dr. Papa Kwesi Ndoum must let the spirit of leadership guide him as he does in his constituency, in his ambition to lead his party and possibly, the nation.
At a meeting with the Omanhene at his palace at Essikado recently as part of his campaign tour of the western region, the Omanhene advised him (Ndoum) as he recalled the sacrifice and toil of the first president of the country:
"Nkrumah had no money when he was forming the CPP, but he did his best for the nation and died as a poor person, but we acknowledge that he died as a hero" Nana submitted. This he said was because, the founder of the CPP had nothing when he was forming the party, but out of ideas, vision, he gained independence for this country and fought tirelessly for the whole of Africa .
All these he said, made Nkrumah exceptional when you talk of leaders of the country. Like Nkrumah, he disclosed that several other individuals in Ghana fought for the independence of the country Ghana , but their names vanished in the history books of the country. He mentioned Pobby Biney, Nana Kobinah Nketsia (IV), Paa Grant among others from the western region who in diverse ways fought ruthlessly to make sure Ghana was free from colonial injustice and its imperial effects on the country and Africa as a continent.
How ever, the Cape Coast university don and history lecturer turned his attention on other political leaders of the country who have ruled through revolutionary tactics and advised Papa Kwesi Ndoum against that. He said on tape, that they began as paupers and ended up enriching them selves: "We have some people in this country, they came as revolutionaries, they came to power with slippers and went out of power with Jaguar's, and you have people in this country following such leaders".
Continuing, he recalled :"They open their mouths wide and talk by heart, they should stop annoying some of us" Nana exploded. Descending further on such selfish politicians who, he said hunted for the interest of themselves and their families, sent their children to schools abroad and came back to tell Ghanaians to vote for them so that they could help the poor people in their communities to get electricity, water and basic social amenities which they politicians are aware that the people lacked but would constantly use it to do politics'.
Consequently, Nana noted that, if Ghanaians had second thoughts, some of our leaders we have had in the past as a country would not have been given the nod to lead this country. This was because the politics they did in Ghana never addressed the many challenges facing the country.
To this end, he urged Papa Kwesi Ndoum, whom he described as a successful business man who entered politics to continue with the leadership skills imbued in him throughout his political career which must be tapped to the benefit of all Ghanaians.
"I believe Papa Kwesi is not in for stomach politics, like others because Ghanaians are aware of how he served the country, his style of politics, and that I believe must be in continuation".
Due to this, he observed that it would be impossible for Papa Kwesi Ndoum to pay the potential delegates to vote for him, but rather they (delegates of the CPP) he advised must allow their conscience to speak to them about a true leader.
Dr. Ndoum however, after few hours meeting with the Omanhene and his elders then moved to a community center at Essikado to address the potential delegates of the party from all the five constituencies of the Shama Ahanta East Metropolis.
He told them to be wary of calculated lies and attempts by his detractors to derail his efforts of making the CPP viable for the 2008 elections.
As a result, he said anybody who would use the 2004 elections to destroy him, must be questioned by the delegates to provide evidence since he had the majority votes in his constituency for the CPP than any other constituency in the country, yet people continue to peddle lies that he went into alliance with NPP and campaigned against the CPP with a skirt and blouse concept which he denied categorically never to have been the one who introduced that concept in Ghana's politics, and that concept originated from Cape Coast.
He said from 1992 till date, the CPP in different names had gone into alliance with other parties without, he Ndoum, being the cause. For that matter, he urged the delegates to consider what he was capable of offering the party, the nation than the allegations and vote for him to lead the CPP to victory in 2008.
His campaign manager Mr. Felix Amoah,a former member of parliament and a minister under Dr. Hilla Limann's administration in the third republic who also addressed the delegates appealed to them to make the November congress of the party one touch for Ndoum and his team. He told delegates that a support for Ndoum was a support for a winnable candidate, therefore making him a potential president after John Agyekum Kufour. He said the target of the CPP was to win 72 percent of the total votes in 2008 which will require a dynamic leader ,a team player, unifier and a visionary and Papa Kwesi Ndoum he noted, possessed the above and therefore deserved the nod. Accompanying the aspirant was Mr. Mike Eghan, one time acting chairman of the CPP, vying for Treasurer as well as Mr. Ladi Nylander aspiring chairman for the CPP .