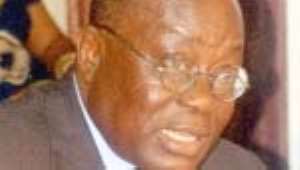 FORMER MINISTER of Defence and one of the aspirants to the New Patriotic Party (NPP) flagbearership, Dr Kwame Addo Kufuor has categorically denied a statement attributed to him that he had requested other aspirants of the party to submit themselves and their stewardship to forensic audit.
At a press conference in Koforidua on Monday which marked the beginning of his four-day tour of the Eastern Region, Dr Addo Kufuor indicated that he never threw a challenge to his fellow presidential aspirants to submit themselves to forensic audit as reported in some sections of the media when he went to file his nomination last week at the party's headquarters.
There were reports last week in sections of the media that Dr Addo Kufuor had allegedly challenged all other aspirants to submit their stewardship as ministers and officials in government to forensic audit after he set an example by presenting all the contracts he handled as a minister to the Auditor-General to be forensically audited and as well declared all his assets.
According to the media reports, Dr Addo Kufuor was cleared in the audit report so he challenged all other aspirants to do same if they did not have anything to hide.
The former Defence Minister explained that what he actually said when he went to file his nomination papers was that as a someone who was willing to become a leader and president, there was the need to safeguard his name and reputation because he knew how mischievous NPP's political opponents could be, so he decided to submit all contracts he handled as a minister to be audited and also decided to declare his assets as an example.
He said the other reason was that he wanted the military to know the confidence they had in him as the sector minister was really justified.
"I can't call on the other aspirants to do same because that is their prerogative.
"The people I am contesting the race with are people
I have great deal of respect for and cannot do anything to undermine them".
According to Dr Addo Kufuor, it was not his type of politics to engage in any form of insinuations, mud-slinging or insults.
"I have always sold my vision to the people and avoided anything that will create a rift among we the aspirants," he said, adding that the paper which made the publication completely misquoted him.
"The report was completely false," he said.
On his vision for the nation, he said corruption is one thing that he would tackle headlong, explaining that as president he would first declare his assets and ask all his ministers and other government officials to do same.
"I will also promptly order investigations into any allegation of corruption whether in the newspapers, and quick action taken on it."
He added that he would empower the investigative apparatus and the law enforcement agencies logistically to be able to function effectively.
According to Dr Addo Kufuor, he would ensure that all the courts are fully computerized to ensure speedy delivery of justice while the practice whereby all judges take a uniform leave at a particular period in the year would be discouraged.
"I would appeal to judges to take their vacation separately and at different times so that judges would be available to deal with cases anytime of the year."
On agriculture, he said the processing of most agricultural produce outside the country had adversely affected foreign exchange earnings of the nation, stressing that when he becomes president he would do everything to ensure that 80% of Ghana's cocoa is processed locally while many other agricultural products are also processed locally.
According to him, subsidies would also be given to farmers who are into the production of staple food crops.
On education, he said since the teacher is the fulcrum of education, he would ensure that accommodation is provided for teachers at highly subsidized rates.
"In fact, any school that we would build, we shall provide an accompanying accommodation," he indicated.
On energy, Dr Addo Kufuor said he would ensure that mini hydro dams are built on all the major rivers in the Western Region, like River Pra, River Ankobra and River Tano, since there is adequate rainfall in the region throughout the year.
"We would build these mini dams in addition to the Bui Dam to serve as a back-up to the Akosombo Dam, which is growing weaker and weaker."
Earlier on in the day, before the press conference, Dr Addo Kufuor and his entourage paid a courtesy call on the regional executive of the party at the regional office, where he presented a 21-inch colour television and a DVD player to the office.
The regional chairman of the party, Mr Yaw Gyekye Amoabeng, thanked him for his gesture and urged him to continue with what he called his level-headed campaign.
He as well commended the other aspirants for their clean campaign and asked them to think about the party first in whatever they did.
From Thomas Fosu Jnr, Koforidua