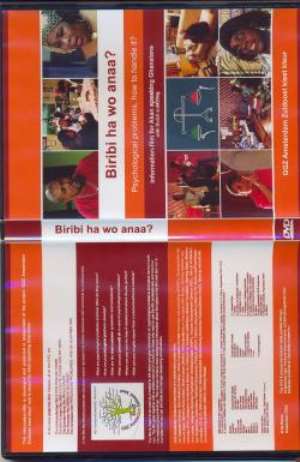 Cover of the DVD-'Biribi ha wo anaa'
The Sikaman Foundation, a Ghanaian Welfare Organization, the Africa Foundation for HIV/AIDS Prevention and Counselling (AFAPAC) and the Dutch Mental Health Institution-AMC De Meren, all in Amsterdam have jointly produced a documentary to serve as the basis for discussing mental health issues in the Ghanaian community.
The production primarily on psychological problems and how to handle them is entitled ' Biribi ha wo anaa' which from Ghanaian Akan language is translated,' What could be wrong with you'. The 25-minute documentary played by Ghana Agoromma, a Ghanaian acting group in Amsterdam also has English version with Dutch language subtitles.
Copies of this documentary, produced at the instance of AMC De Meren and collectively sponsored by Amsterdam Southeast district council, Zorgkantoor Agis, North Holland Pronvince, Stimuleringsfonds OGZ and Amsterdam Municipal Council, were handed out to cross-section of the community in attendance after the premiere, to be shown to interest groups and be the basis for discussing problems associated with mental health such as stress and in worse scenarios as schizophrenia.
Attendance included experts in mental health issues, pastors, community leaders and individuals.
This documentary was produced two years ago and AMC De Meren holds the copyright.
Frantic efforts are being made to be able to view online. Look out for it shortly.