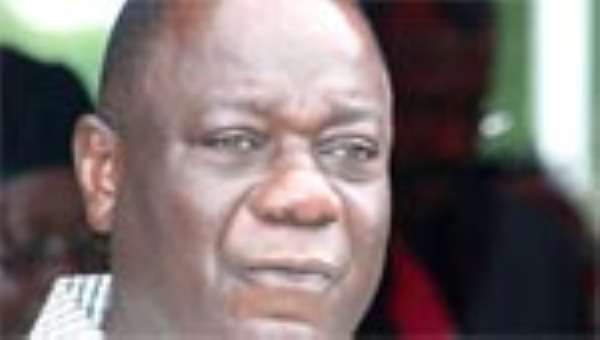 The Social Security and National Insurance Trust (SSNIT) yesterday dragged George Opesika Aggudey, Chief Executive of Gocrest Security Limited, to court over non-payment of workers' contributions to the Trust.
Aggudey is facing new criminal charges at an Accra Circuit Court presided over by Mrs. Jennifer Dodoo, for failing to remit to SSNIT contributions of workers in his outfit after deducting the monies from their salaries.
The Gocrest boss and Convention People's Party (CPP) presidential aspirant is indebted to SSNIT to the tune of over ¢10.9 billion, including penalties.
According to lawyers of the pension fund, after persistent warnings to the CPP presidential aspirant, SSNIT was left with no option but to drag him to court.
Mr Aggudey, who recently had a brush with journalists at the CPP headquarters, is said to have made part payment of ¢600 million, leaving a balance of ¢10.32 billion.
In the fresh charge, after the inspection of records of Gocrest by inspectors from SSNIT, the lead counsel for the Trust, Frank Asamoah Damptey, told the court that Mr. Aggudey had between July 2006 and June 2007 failed to pay into the Social Security Fund an amount of over ¢10.9 billion (GH¢1,092,000.60) being SSNIT contributions of his workers;
"The arrears is made up of ¢4,543,515,100.00 (GH¢454,351.51) as actual and ¢6,376,490,900 (GH¢637,649.09) as 3 per cent penalty for delayed payments."
Presenting their case to the court, Mr. Damptey said a demand letter issued on August 29, 2007 informing the accused of his indebtedness to SSNIT had expired on September 12, 2007.
The statement of offence said the actions against Mr. Aggudey were in respect of: "Failing to pay Social Security contributions, contrary to Sections 22 (1)(2) & 26(1)(c)(i) of Social Security Law, 1991 (P.N.D.C.L 247)".
Mr. Aggudey, however, did not appear in court but was represented by one Frederick Amartey.
Counsel for SSNIT moved the court for an adjournment of proceedings to December 10, 2007, and it was granted by the presiding judge.
In the first charge, SSNIT inspectors detected that between the period January 1995 and June 2006, Mr. Aggudey had failed to pay into the Social Security Fund, an amount of over ¢8.15 billion.
"The arrears is made up of ¢3,378,855,762.24 as actual and ¢4,772,026,314.48 as 3 percent penalty for delayed payments.
"A demand letter issued on 28th July, 2006 prompting the accused of his indebtedness to the organisation expired on 18th August, 2006.
"Efforts to get the employer to settle the said amount in full have failed, hence the present court action," the inspectors stressed.
By Wisdom Peter Awuku