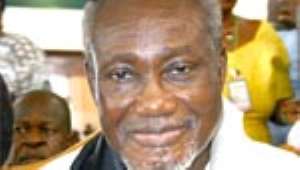 THE FOUNDER of the Democratic Freedom Party (DFP), Dr. Yao Obed Asamoah, has stated that the New Patriotic Party (NPP) is not foolish enough to allow the opposition National Democratic Congress (NDC) to seize power in the 2008 general election.
He said although the NDC has not been given the nod to rule the country, its members have been going round telling the public that they would jail NPP members for 30 years when elected to rule the country in 2008.
Dr. Asamoah therefore explained that judging by the effusions of NDC, there was no way the NPP would hand over power to them to allow them to achieve their evil intention of vengeance.
The former law lecturer made these remarks on Sunday at the inauguration of constituency executives of the DFP in Hemang Lower Denkyira Constituency of the Central Region at Hemang.
He pointed out that he did not establish the party in order to become president but rather to allow the youth to take up the mantle and rule the country.
He said plans are underway for the party to go to congress in March next year to elect its flagbearer, adding that Ghanaians have experienced the ruling style of NPP, NDC as well as CPP but have not benefited enough hence the need for DFP to offer itself to Ghanaians.
Dr. Asamoah expressed concern about the failure of past governments to stamp out corruption among politicians and bureaucrats, slamming them for the backward development of the country.
He attributed some of the difficulties that the country was going through to the practice whereby successive governments abandoned projects initiated by their predecessors.
He cited the sabotaging of a chocolate factory being constructed by the 31st December Women's Movement and explained that the project could have earned the country a lot of money but because of political affiliation, it has been closed down although it is about 95% complete.
The founder of the DFP expressed concern about insults, threats, violence and lack of objectivity in Ghanaian politics, and described the situation as very bad.
He pledged his party's commitment to fight those negative trends in politics and change the mindset of the populace towards accelerated development.
The DFP Deputy General Secretary, Mr John Amedika, said their party was the only one that could unite the people to promote effective development in the country, now that the NPP and NDC have polarized the nation.
A nine-member executive body was inaugurated to steer the affairs of the party in the area.
From Sarah Afful, Hemang