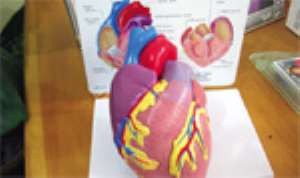 FOLLOWING CONCERNS raised recently by sections of the Ghanaian public and relatives of people suffering from what is commonly called 'Hole-In-Heart', medical officers at the National Cardiothoracic Centre of the Korle-Bu Teaching Hospital have outlined reasons why some heart problems occur.
Information gathered from cardiothoracic surgeons at Korle-Bu indicates that untreated common colds (catarrh) which result in sore throat could cause serious heart problems.
Common colds, according to them, must be treated with antibiotics to prevent the bacteria which cause flu from causing damage to the valves.
Several heart-related cases including that of 4-months-old Ian Elikem Tsigbey have been recently reported, and those patients who could not afford the cost of treatment have been forced to resort to appeals for assistance from public-spirited individuals and corporate organisations.
Dr. Mark Mawutor Tettey, a surgeon at the cardiothoracic centre of the hospital, told HEALTH MATTERS on Friday November 2, that heart diseases are mainly caused through Congenital and Acquired means.
According to him, structural abnormalities of the heart could result in the death of the affected person if surgical intervention or normal treatment is delayed.
He explained that when surgical operations are delayed, the heart disease can eventually result in Pulmonary Hypertension which can no longer be operated upon because of the extent to which the valves have been damaged.
Causes of Congenital Heart Disease, he said, include smoking during pregnancy, alcohol consumption, mental stress, radiation from X-ray machines, pregnancy at old age as well as German measles which usually attacks pregnant women.
With the Acquired Heart Disease (Romatic Heart Disease), he said it is mainly caused by entrenched smoking habits and untreated sore throats, and that pregnant women in those conditions are exposing their unborn babies to heart related diseases, especially Ventricular Septal Defect (VSD).
Dr. Tettey advised expectant mothers to attend antenatal care, especially during the first three months of pregnancy in order to ensure the safety of their babies.
He also urged them to be mindful of the kind of drugs they take, particularly herbal drugs whose efficacy is questionable.
Also interviewed was Dr. Felix Fonder, an Anaesthetic at the Cardio Centre who said Romatic Cardiac conditions, if not given the needed attention on time, could result in complications which eventually lead to the total destruction of the valves.
He, however, noted that the replacement of the natural valve with an artificial one through surgery could last the individual a lifetime.
Dr. Fonder mentioned other complicated heart diseases like Tetralogy of Fallot (TOF), Troncos Aterosis and Double Outlet Right Ventricle (DORV) and advised the general public, especially pregnant women, to be extra careful with their health.
By Grace Dartey