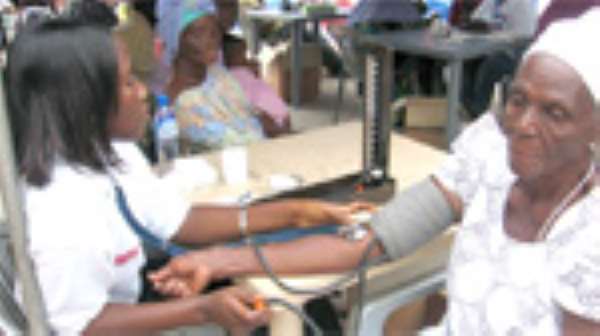 ABOUT ONE thousand residents of Adabraka and its environs, at the weekend, received free medical attention from officers drawn from the College of Health Sciences in Accra.
The medical exercise, organised jointly by Managements of Graphic Communications Group Ltd and Pepsi Ghana Limited was part of the corporate entities' social responsibilities to the community.
Cases attended to included Malaria, Joints and general bodily aches, Hypertension, Dental and Eye problems, and Arthritis.
Mr. Albert Sam, Public Affairs Manager for Graphic Group told newsmen the exercise, which was the third in three successive years, was a way of showing the company's gratitude to the people for their support and cooperation over the last few decades.
"We owe it a duty to show our appreciation to the people of Adabraka for the immense support shown us over the past few years we have been operating as a company," he emphasised.
A similar exercise, which he said would be an annual affair, would be extended to the other regions in the future.
He said an estimated amount of ¢100 million was spent on the 8hour exercise which saw old men and women as well as children benefiting.
Dr. Henry Aidoo, Medical Doctor for Graphic Group told HEALTH MATTERS that the exercise was not only meant for the residents of Adabraka but the general public as well, adding that all cases were attended to, with severe ones referred to major hospitals.
Some of the beneficiaries who spoke to HEALTH MATTERS were grateful to the organisers for the exercise and wished them well in their endeavours.