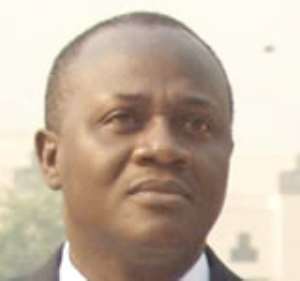 Mr. Dan Kweku Botwe says President Kufuor will be a key member of his government if be he succeeds in his bid to lead the NPP to a 2008 electoral victory.
He said as a former President by then, Kufuor will be in a better position to assist him accomplish policies he could not complete or did not have time to see to whilst in office.
"If I succeed, which I'm so convinced of, in becoming the president of this nation, President Kufuor will be an ally in my government. I'll partly rely on his experience to accomplish my vision for the country", the "General" pointed out.
Mr Dan Botwe made this revelation in an interview with Gye Nyame Concord after filing his nomination papers to confirm his intentions to lead the party into the upcoming 2008 elections.
He was reacting to media speculations to the effect that he was at loggerheads with President Kufuor whom he is aspiring to succeed come January 2009.
The former General Secretary of the ruling NPP and former Minister of Information in the present Kufuor administration debunked the rumour, saying he has been working closely with the President for the past 25 years and that there was no way looking back.
The General said he stands for selflessness and so would his government to ensure that the good people of this country are served with all humility and given what they deserve.
He wondered why there were rumours that he was only in the race to mobilise support for other candidates whom people refer to as "big men" in the race, asking that after 25 years at the forefront of Ghana politics and in the NPP who are then the "big men?"
Mr Botwe promised to run a strong campaign and fight to win the mandate of the NPP and that of the people of Ghana, stressing that his government will be the peoples' government.
Recounting the achievements of the Kufuor-led NPP government, "General" Botwe noted that the country has made significant gains in-terms of strong macro economic performance; leadership and respect among her regional and international partners and; greatly improved governance resulting in unprecedented freedoms, adding that it is upon these solid foundations that he would seek to build a more vibrant and prosperous economy for the country.
He cautioned that the party's flagberaership contest is not about who has waited for long, who is the oldest or youngest, and who is wealthy, but said it is about who is worthy of the party and the peoples' trust and about who will serve hardest and best.
He further urged the party's delegates in its December 22nd Congress to elect a leader who is truly of the party, marketable and above all, a proven political leader.
Proving that he is truly qualified to lead the NPP into the 2008 elections, Dan Botwe rolled out his credentials, saying; "I joined the NPP as a young man and I have long been committed to its cause even in the dark days of what seemed then to be permanent opposition".
"My candidacy is based on a fundamental realization that this country, under strong, committed and visionary leadership, can live up to expectations of its people and deliver the security, prosperity, health and educational opportunities and economic well-being that our people demand and deserve".
Touching on his proven political leadership qualities, he stressed; "My record as a student leader, my record as a foot soldier, my record as a two term General Secretary of our party, and my record in government is without question. I understand the pulse of our party and the aspirations of Ghanaians and can credibly deliver in line with these aspirations. I can link our party and our people to Government, and build on the good work of the Kufuor administration. I am that proven political leader," he declared.
According to Dan Botwe, over the last 25 years, he has been actively engaged in the politics of this country and that his political journey has given him a front seat in terms of direct experience of the major political developments of this nation; the tough decisions as well as the delivery that accompanied these developments as the country's history was being shaped.
He said it has also taken him to the farthest reaches of this country and given him a rare insight into the conditions of the people, adding that it is upon these experiences that he is so convinced of his presidential bid.
"This is a time for a leader of the party who can reinvigorate the NPP to mobilise the people like never before. It is my conviction that only an engaged and invigorated NPP can define, deliver and fulfill our people's aspirations".