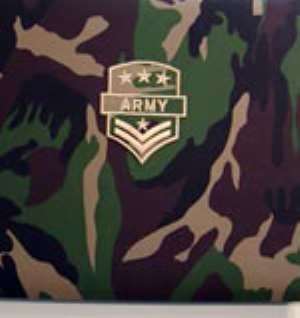 The Chief of the Defence Staff, Lt. Gen. Joseph Boateng Danquah has warned that the Military High Command would sanction soldiers who have thrown professionalism to the wind, and resorted to unprofessional conduct such as soliciting of alms and accepting monies from drivers.
Such practices, he said, cast a slur on the profession and reduced the image of the Ghana Armed Forces (GAF) before the general public.
Lt Gen. Danquah gave the warning when he addressed the closing ceremony of the biennial Ghana Armed Forces Inter-Services Shooting Competition codenamed "Exercise Fireblast 2007" at the Yaohima Military Range, near Sunyani in the Brong Ahafo Region, at the weekend.
He said the GAF's involvement in the joint operations with the police to check the high spate of armed robbery in the country was a call to national duty and it behoves every soldier involved to help reduce the trend in the country.
"I take this opportunity to reiterate the need for all ranks involved in the joint operations to be guided by the rules of engagement for such operations. Anyone who contravenes the rules will be seriously sanctioned," he stressed.
The competition saw the Army emerging as the overall team, followed by the Air force and Navy.
It was aimed at exchanging training ideas, foster co-operation and friendship among the services and also promote competitive spirit, as well, as espirit-de-corps, within the Ghana Armed Forces.
For their prizes the army received a trophy, certificate and five million cedis for placing first, while the Air Force and the Navy received a certificate and two million cedis and one million cedis for taking the second and third positions respectively.
Lt. Gen. Danquah, who fired a shot to signify the close of the Golden Jubilee competition, also called on the public to support the security services in their fight against armed robbery and as well accord them the respect they needed as they went through sacrifices in their bid to secure a peaceful environment for all.
Lt. Gen. Danquah also took the opportunity to assure media practitioners that the doors of the Military High Command were opened always for them to crosscheck on the validity of every information that came to them before going on air or to print.