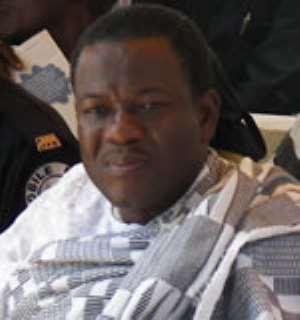 Mr. Kofi Dzamesi, Volta Regional Minister has stated that the New Patriotic Party government was working assiduously to improve the road network in the Volta Region.

"No government has ever tackled the road network of the region as being done by this government", he said.

Mr. Dzamesi said this when the Mafi Traditional Area Queen Mothers Association led by their paramount queen, Mama Sename III paid a courtesy call on him at his office on Friday.

He named some of the roads as Sogakope-Aflao, Sogakope -Ho-Fume, Worawora-Jasikan and Worawora-Dambai.

Mr. Dzamesi assured the delegation that the Soakage-Ho-Fume road, which was being done in phases, would be completed "because it is dear to the heart of the government".

He told the delegation that a girls' dormitory would be built for the Adidome Secondary School to alleviate the acute accommodation problem facing
the school.

He said the government recognized the role of women in the socio economic development of the country hence the creation of the Ministry of Women and Children Affairs to take charge of affairs of women and children.

Mr. Dzamesi appealed to the queen mothers to educate their people, especially women on the need to form co-operative groups to enable them to access loans from the numerous interventions put in place by the government to improve their living standards.

Mama Sename commended the government for the numerous development projects that were being undertaken in the area, especially roads and called on the government to rehabilitate existing feeder roads which are in deplorable state.

She called for total empowerment of women to enable them play their roles effectively and efficiently in their communities.

Mama Sename appealed to Metropolitan, Municipal and District assemblies to involve chiefs and queens in the programmes and deliberations of the assemblies since such programmes affect or benefit their people directly or indirectly.

"Chiefs and queens should not only be invited to decorate functions organised by the assemblies but rather be involved in their programmes", she said.

Mr. Obed Okudzeto, a Patron of the New Patriotic Party (NPP) called on the people of the Volta Region "to refrain from putting all their eggs in one basket and wholeheartedly support the NPP government for the accelerated development of the region".

He said though the government would not discriminate in the distribution of development projects, it needed the support of every Ghanaian to enable it continue with its good works.