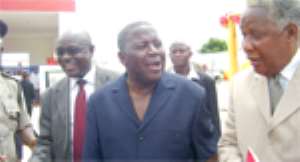 Vice President Alhaji Aliu Mahama has emphasized that the greatest challenge of the Ghanaian economy is creating jobs for the masses.
He said the government's sound economic policies were creating an environment which enabled performance, and that the private sector was an indispensable partner in the government's development agenda of accelerated growth, because of its ability to take advantage of these policies to create employment.
Alhaji Mahama noted that with a strong and independent private sector, national capacity to create income would be boosted tremendously, while the local workforce would become increasingly skilled and the transfer of technology accelerated.
The Vice President made these statements during Wednesday's inauguration of an ultra-modern Allied Oil Company Limited service station in Ablelemkpe. The company is wholly Ghanaian-owned.
Vice President Mahama told Ghanaian entrepreneurs that globalisation of finance and Information, Communication and Telecommunication (ICT) had done away with segregated markets, hence the need for Ghana to be competitive both at home and abroad.
"We cannot be competitive at home and weak abroad. To be truly competitive, we must show an ability to attract international credit and state-of-the-art technology," he said.
The Vice President noted that the country must build capacity to consistently turn out goods and services of a standard that was attractive in terms of price and quality.
The Chief Executive Officer of Allied Company, Dan Kofi Okudzeto said whilst the ceremony marked the inauguration of three other stations at Kwame Nkrumah Circle, Zongo and Bubuashie in Accra built at the cost of $3 million, the Ablelemkpe station was the flagship of the company.
By Felix Dela Klutse