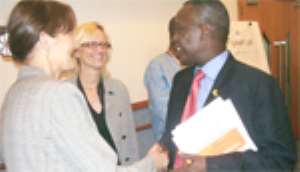 A REGIONAL ECONOMIC outlook report on Africa released by the International Monetary Fund (IMF) yesterday shows that the continent is poised to sustain its growth momentum with improved Gross Domestic Product (GDP) and inflation targeted to decline further in 2008.
This comes after the continent had maintained a robust economic performance and lowered inflation in over 30 years with Ghana's total public debt declining to moderate levels.
The total public debt which has been stabilized since last year is expected to maintain the same trend till 2012.
Additionally, government's domestic debt has also declined and is close to the lower end of the emerging countries distribution.
According to the report, African countries should sustain the economic expansion with the efficient use of fiscal and debt space as well as structural and institutional reforms that increase productivity and boost resilience to shocks.
Consequently, the sources of fiscal space should be centered on mobilizing domestic revenue so as to make spending more efficient and secure external grants.
Fiscal space is said to increase expenditures, including health and education as well as reduce deficits and lower borrowing requirements.
The report however excludes Zimbabwe.
Releasing the report, Benedicte Vibe Christensen, a Senior Economist at the African Department of the IMF, cautioned Africa on the risks to the outlook which include the recent global financial market turbulence, especially the credit crunch in the U.S mortgage market.
Though the escalating price of crude oil has impacted negatively on most African countries, the oil producing ones have improved the terms of trade for oil exporters.
While growth volatility is near historic lows, external debt has declined.
With regard to medium-term policies for rapid, sustained and inclusive growth, African countries were advised to consolidate stabilization gains and reduce vulnerabilities, expand trade and markets as well as improve financial market access.
Commenting on the report, Finance and Economic Planning Minister, Kwadwo Baah Wiredu, said Ghana needs to continue with its economic reform programmes in order to meet its growth target since the country's imports exceeds its exports.
Ghana's trade deficit for 2006 was about $3 billion.
The Governor of the Bank of Ghana, Dr. Paul Acquaah, also noted that there was the need to implement financial sector reforms and improve technology transfer in order to increase the pace of economic growth.
On the world economic outlook, the report stated that global growth in 2008 would be sustained at 4 3/4 per cent, around ½ percentage point below IMF's last July expectations with the largest impact expected to be felt in United States and Europe.
There is also anticipated solid growth in emerging markets.
Developing countries also generally appear on track for continued strong growth, albeit at a rate modestly slower than the heady pace of the past two years.
There are however risks of a deeper global slowdown.
The report urged policy makers in developing countries to adapt to the changeable global environment, while continuing to make headway in the reforms needed to sustain strong growth.
On the whole, global expansion remained strong for a fifth consecutive year. Developing countries are the major sources of global growth.
By Charles Nixon Yeboah