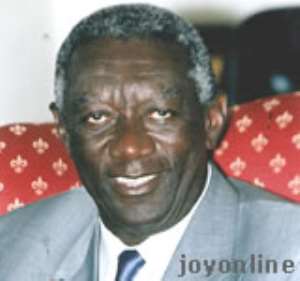 President Agyekum Kufuor has indicated that he has a fair idea about who he would want to see succeed him among the 19 presidential aspirants of the ruling New Patriotic Party (NPP).
The President, who would be retiring from active politics in 2009 when he clocks 70 years, however declined to name a specific person.
"I wouldn't disclose it. It is not possible to continue in politics as long as I have without having an idea who might be the best person to take over from you. So I have an idea," he said.
Speaking on BBC's Focus on Africa news and current affairs programme Thursday, President Kufuor, who was visiting London, however said he would leave the selection process to the party's delegates.
"I would not do anything to pre-empt or deny my party the leader it would want. That might seem monarchical; virtually decreeing who should succeed you. I don't have that power and I wouldn't try to exercise it even if I could," he stressed.
He said his party had very strict constitutional rules regarding the selection process.
President Kufuor was in London to give a number of speeches at Oxford University among other schedules.
He said it would be impossible not to have a choice, pointing out that he had no hand in the selection of delegates and that the party would follow its constitution to the letter.
He disclosed that the selection of a presidential candidate was a party matter, stating that he had no vote on the agreed day, and added jokingly, "Unless a constituency will think of adopting and giving me a vote."
Spelling out the attributes of his successor, President Kufuor noted that the person must be level-headed and ready to handle the country's assets competently.
According to him, some amount of assets had been put together and what was needed was somebody who would manage them well without losing his head.
Ghana, the President said, was ready to take off.
He particularly mentioned the impending oil boom which he said, needed to be managed well.
He said his successor must live above reproach and lead the economy to prosperity, especially with gains on the micro-economy front.
Emphasizing the role of the private sector, the President pointed out that the person must grow the economy and create jobs.