November 1, 2007
|
Diaspora Diaspora (Switzerland)
Baah-Duodu addresses Ex-Ghana/Swiss Society
Ghana Embassy, Switzerland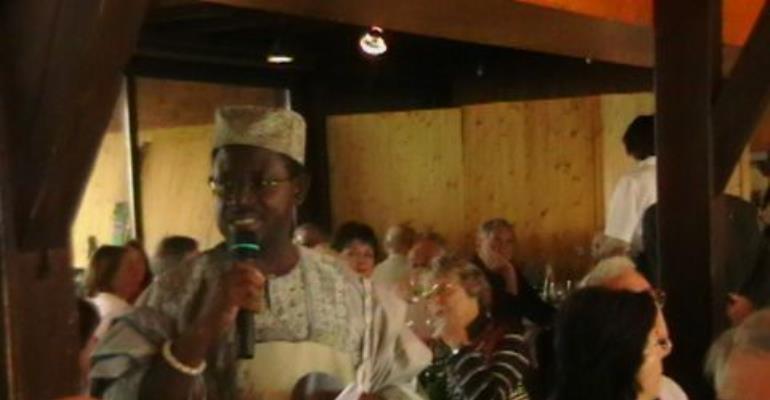 Ghana's Ambassador to the Swiss Confederation and Austria, His Excellency Mr. Kwabena Baah-Duodu, addressed the members of the Ex-Ghana / Swiss Society at their annual convocation held on Sunday 28th October, 2007, in Halbinsel Au, near Zurich.
The Society, which comprises mainly of Swiss nationals who have worked or been associated with Ghana in the past meets annually to discuss ways and means of supporting Ghana with development projects, especially in the health and education sectors. For the 2006/ 2007 financial year, the Ex-Ghana / Swiss Society and the Ernst Peyer Memorial Foundation, a Swiss-based charitable organisation, jointly contributed to the provision of solar-energy equipment, water and sanitation facilities, transformers, X-ray units and other hospital equipment to the Agogo, Tolla, Donkokrom and Bawku hospitals.
Addressing the meeting, which was attended by close to 300 members of the Society, Ambassador Baah-Duodu emphasised that Ghana deeply cherished the personal connection which the members of the Society had with the country, and stressed that such contacts were the driving force behind the cordial bilateral relations between Ghana and Switzerland.
According to the Ambassador, those people to people contacts, which paved the way for Government to Government cooperation, were being facilitated and nurtured by the respective citizens of both countries. He praised the Ex-Ghana/Swiss Society and the Ernst Peyer Memorial Foundation for their contribution to the development of health and educational facilities in Ghana.
He urged members of the Society to use the personal connections which they had cultivated while in active service in Ghana, to encourage their compatriot investors and business operators to once again follow the footsteps of their forefathers as well as theirs and invest in Ghana. He stressed that the present economic opportunities in Ghana were better than what attracted the early Swiss nationals who later formed the Union Trading Company.