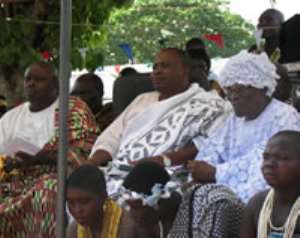 Three persons are confirmed dead from gunshot wounds in a chieftaincy standoff between two factions in Anloga in the Volta Region.
A medical officer of the district hospital who confirmed the deaths to Joy News shortly after midday, said seven others were on admission at the hospital with varying degrees of injuries.
Two policemen among a team sent to keep the peace have also sustained injuries and are among the seven.
Police claim one of the rival factions opposed to the installation of a chief for the area started the shooting before police responded, killing the three.
King makers and the traditional council in the area have been performing rituals to install businessman, Francis Nyonyo Agboada as chief, but another faction blocked the passage to the shrine.
Earlier reports suggested the police were preventing those opposed to the installation from marching on the shrine, while the youth also resisted.
The matter is already in court and according to the opposing faction, they had secured the authority of the Ho High Court on Wednesday to serve the Anlo Traditional Council and the kingmakers notice that they could not go ahead with the process.
The court is said to have issued an order of substituted service as the Agboada faction have allegedly avoided previous service of court notices on the matter.