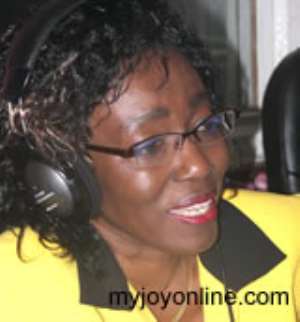 The former First Lady, Nana Konadu Agyeman Rawlings, and two others have filed an application for stay of proceedings pending the outcome of an appeal filed against the refusal of the Fast Track High Court to stay proceedings in the trial in the case in which they have, been accused of allegedly causing financial loss to the state.
The court, on July 13, 2006, dismissed an application filed by the applicants praying the court to stay proceedings, pending the outcome of a civil suit which had connection with the criminal case brought against the applicants and two others.

Nana Konadu Agyeman Rawlings, Sherry Ayittey, the Managing Director of Caridem Development Company Limited, and Caridem as an entity, had filed an application for stay of proceedings because the subject matter for which they were standing trial was being contested in another court.
However, the court dismissed the application and described it as premature. But the applicants filed an appeal against the court's ruling at the Court of Appeal.

Counsel for the applicants, Mr Tony Lithur, is expected to move the motion for stay of proceedings in the case pending the outcome of the appeal on November 15, 2007.
Also standing trial alongside the applicants are Emmanuel Amuzu Agbodo, a former Executive Secretary of the Divestiture Implementation Committee (DIC) and Kwame Peprah, a former Minister of Finance and former Chairman of the DIC.
They are facing various charges of conspiracy, causing financial loss to public property, conspiracy to obtain public property by false statement, obtaining public property by false statement and altering forged document.
They have denied the offences and have been admitted self-recognizance bail.
The accused persons were alleged to have caused loss running into billions of cedis to public property in 1995, following the divesting of the GIHOC Cannery at Nsawam, a government cannery, which was acquired by Caridem Development Company Limited, which was owned by the 31st December Women's Movement (DWM).
All the accused persons were present in court at the court's sitting in Accra Wednesday but the prosecution was absent.
Following the absence of the prosecution, one of the lawyers for the accused persons said the court would be called upon to strike out the case if the prosecution did not show up at the next adjourned date.

The trial judge, Mr Justice K. K. Acquaye, ordered that hearing notices should be served on the prosecution.
He expressed dissatisfaction with the noise-making by supporters of the accused persons.