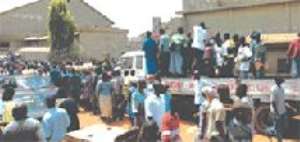 A number of curious people at the scene of the incident
A Day-Light gun battle at Asafo in Kumasi yesterday between a courageous police lance corporal and six suspected armed robbers left one of the suspects dead and the policeman injured in one hand.
The lone policeman was on guard at the Adom Mmroso Cold Store at Asafo when the cold store came under attack from the suspected criminals wielding guns and machetes.

But he fiercely defended his position, returning fire and killing one of the attackers in the process.
Lance Corporal Ebenezer Obeng was, however, wounded in the hand from a gunshot and was rushed to the hospital for treatment.
Eyewitnesses said upon seeing their colleague fall, the remaining five suspected robbers, some of them passing for teenagers, escaped at top speed in a waiting Daewoo Tico car, with registration number GE 3839 Y.
The identity of the deceased robber, believed to be about 19 years, was not immediately known. His body was lying in one of the cold stores two hours after the incident.
Police sources said a locally made pistol and ammunition were found on him. According to the witnesses, the robbers could not escape with any money from the cold store when they stormed it at about 10.30 a.m. when business activities were peaking.
It was the shabbily-dressed deceased robber who managed to pick about GH¢100,000 from the cold store but he could not escape with the money as he was shot and killed.
Many of the women who were trading there in the morning sang praises to God that in addition to the fact that the robbers could not take anything from them, no one else was killed.
The policeman was on top of the building so the robbers might not have noticed his presence. According to some of the traders, the car used by the robbers parked close to the main entrance of the cold store, and immediately the robbers alighted they ordered everybody around to keep quiet and give way for them, as they moved straight to the main office of the store.
The witnesses said one of them, who was in a mask, wielded an AK 47 assault rifle, with two others carrying a locally- made pistol and a knife.
While they moved towards the office, the policeman, who was hiding on top of the building, came down and opened fire on them, killing the one who had already entered the office to pick the money.
But before L/Cpl Obeng could fire again, he was shot in the hand. The robbers then fled in the waiting car towards the Asokwa area before a number of policemen from the Buffalo Unit arrived at the scene.
The police have mounted a search for the robbers and an appeal has gone to the public for information on them.
Story by Kwame Asare-Boadu