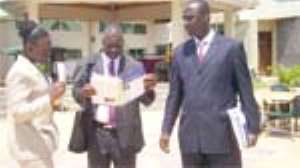 The Public Accounts Committee (PAC) of Parliament will soon make public the total amount of public funds that were misappropriated and the amount retrieved so far.
Chairman of the committee, Hon S. Sallas- Mensah, who disclosed this during a validation workshop on the guidelines of Audit Report Implementation Committee (ARIC) in Accra yesterday, said Parliament had an obligation to foster and strengthen the capacity and measures in ensuring that audit report recommendations, especially in the recovery of misappropriated public funds were implemented.
Hon Sallas-Mensah said it was against this background that ARIC was set up by the Audit Service Act 584 (200) to play a key role in pursuing the recommendation of the audit reports.
ARIC was mandated to ensure the implementation of the recommendations of the audit reports of all Ministries, Departments and Agencies (MDAs).
The committee was also mandated among other things, to follow up on Auditor-General and PAC's recommendations as well as internal audit reports.
Hon Sallas-Mensah expressed regret that though the Audit Service Act was enacted seven years ago, some public institutions had not established ARICs, whilst other institutions' ARICs were not functioning.
He further observed that most of the existing ARICs had not prepared and submitted annual statements to show the status of implementation of audit recommendations to Parliament.
He advised auditors in the country to foresee the needs of Parliament, especially in dealing with complex public financial management of the country.
He also urged them to conduct their duties professionally and diligently so that the taxpayers' money could impact tremendously on the country's developmental activities.
The PAC Chairman re-iterated the call on the Chief Justice to empanel the members of the Financial Administration Tribunal as required by section 66 of the Financial Administration Tribunal Act (Act 654) of 2003 to complete the accountability cycle of the country's public financial management.
By Felix Dela Klutse