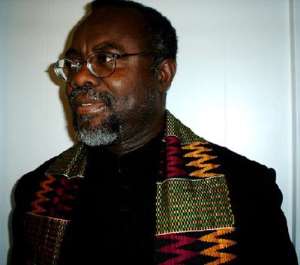 Kwame Okoampa-Ahoofe, Jr., Ph.D., is Associate Professor of English and Journalism at Nassau Community College of the State University of New York, Garden City.
I read the news report on Mr. George Aggudey's most recent emotional outburst against some Ghanaian journalists, who had gone to the headquarters of the rump Convention People's Party (CPP) to cover the presidential aspirant's filing of his nomination papers, with a mixture of uncontrollable amusement and outright disgust (see Ghanaweb.com 10/23/07).
Unlike the victims of his tantrum, including the executive membership of the Ghana Journalists' Association (GJA), however, I was not in the least bit surprised.
First of all, anybody who has spent ample time meticulously studying and conducting research into Ghana's immediate postcolonial history, would have learned before hand that traditionally, the only brand of journalists that the arrogant membership and supercilious leadership of the CPP have ever tolerated are unconscionable sycophants. And, indeed, as Professor Dennis Austin painstakingly details in his classic treatise titled Politics in Ghana: 1946-1960, on the eve of President Nkrumah's overthrow, on February 24, 1966, the only newspapers that were in circulation in Ghana were those that were either owned by card-carrying members of the CPP and the Party itself, or such state-owned and operated newspapers as the Ghanaian Times and the Daily Graphic. The last non-CPP privately-owned newspaper of record to be summarily banned by a presidential edict was the celebrated Ashanti Pioneer, for which Mr. Krobo Edusei had, ironically, worked prior to opportunistically hitching up with the African Show Boy. And the shameful and summary shuttering of the Ashanti Pioneer would occur somewhere between 1961 and 1963.
It is also quite intriguing that Mr. Aggudey would presume to put Ghanaian journalists in their place, in veritable CPP parlance, by both reminding them of their marginal economic and political status within the mainstream of the country's affairs. The preceding comes as absolutely no wonder, once it is recalled that Mr. Aggudey and his rump-CPP cohorts vigorously fought against the Akufo-Addo-crafted repeal of the Criminal Libel Law, a British colonial carryover which had been routinely appropriated by previous Ghanaian governments, beginning with the Nkrumah-led Convention People's Party, to summarily incarcerate journalists of conscience and intellectual poise and integrity. And to be certain, as Mr. Aggudey intimated not quite awhile ago, the most salient plank of the Convention People's Party platform, in the highly unlikely event of the CPP being accorded the sacred mandate of the Ghanaian electorate, would be to re-institute the at once odious and barbaric Criminal Libel Law, in order to facilitate a neo-Nkrumaist dictatorship.
While the October 23, 2007 Ghana News Agency (GNA) report alleges that some of the journalists covering the notorious and comical CPP presidential aspirant had raised some "harsh" or provocative questions (largely vis-à-vis the 2004 rump-CPP presidential candidate's chances of re-clinching his party's nomination) which might have prompted Mr. Aggudey to equally dourly attempt to put these reporters in their place, nevertheless, the aspirant's alleged issuance of physical threats against some of these journalists make Mr. Aggudey appear to be a very dangerous personality on the Fourth Republican Ghanaian political scene.
It would, therefore, come as hardly any surprise if any legitimate medical report on Mr. Aggudey publicly revealed tomorrow that, indeed, the diehard Cii-Pii-Pii-ite might be suffering from some form of chemical imbalance. On the latter score, we solemnly urge Ghana's Director-General of Medical Services to promptly advise Mr. Aggudey and, indeed, all the rump-CPP presidential aspirants to seek medical examination and requisite treatment before Ghanaians find themselves besieged with a Kulungugu-type of a CPP suicidal set-up or fabrication.
It is also rather ironic to observe that the immediate-past Director-General of Ghana Medical Services is engaged in an epic struggle with Mr. Aggudey, among others, for the CPP flagbearership. Obviously, part of his frustration may stem from the patently irritable fact that like Professor John Evans Atta-Mills, of the so-called National Democratic Congress (NDC), Mr. Aggudey is fast becoming a jaded and perennial CPP presidential candidate.
Matters are also not in the least bit helped by the likes of Dr. Paa Kwesi Nduom, a veritable political opportunist, to speak much less of a political gigolo (or brazen prostitute), as well as other "Political Off-siders" who have joined the race for the rump CPP's presidential candidacy, thus ensuring that Mr. Aggudey engages in a blistering battle if he is to retain his former title.
As for Mr. Bright Blewu's lament that "the kind of intolerance demonstrated by Mr. Aggudey could not be helpful in fostering civility, mutual respect and good governance which form the basis of nurturing [a] functional multi-party democracy," we can only riposte that nowhere in that party's history has the CPP been credited with fostering a salutary culture of multi-party democracy as currently prevails in Fourth-Republican Ghana.
In the end, though, it is Mr. Bright Blewu's surname that may be squarely envisaged to send an unmistakable signal to Mr. George Aggudey and his ilk that the days of the CPP's politics of impunity belong to the yellowing, and moth-eaten, pages of postcolonial Ghanaian history. And for those of our readers who might not readily appreciate the cautionary import of the surname of the General Secretary of the Ghana Journalists' Association (GJA), "Blewu," in Akan, means "Hwe Yiye!"
*Kwame Okoampa-Ahoofe, Jr., Ph.D., is Associate Professor of English and Journalism at Nassau Community College of the State University of New York, Garden City. He is the author of "Dr. J. B. Danquah: Architect of Modern Ghana" (iUniverse.com, 2005). E-mail:
[email protected]