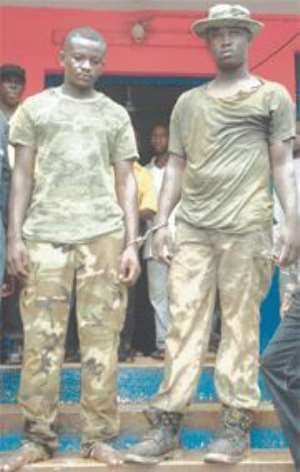 In the arms of the law: Bright Asare (left), 21, and Kofi Amoateng, 22.
Luck ran out for two suspected members of a robbery gang who disguised themselves in illegally acquired military uniforms, following the alertness displayed by a soldier of the Second Infantry Brigade and residents of Asawase in Kumasi.
The two were said to be hiding behind the military uniform to unleash terror on residents of some communities in the Kumasi metropolis.
Angry residents of Asawase, who apprehended the suspects after a hot chase in the area, attempted to lynch them but the presence of the police thwarted their plans. But that was not before the two had been soundly beaten by the mob who were reportedly angered by the alleged atrocities meted out to the people of the metropolis by the suspects.

They are currently in the custody of the Asawase Police, pending further investigations and possible prosecution.

The Asawase District Police Commander, ASP Andrews George Kumah, who briefed the Daily Graphic, named the suspects as Bright Asare, 21, and Kofi Amoateng, 22, both unemployed and residents of Dichemso and Pankrono, respectively, in Kumasi.
A third accomplice, Bernard Kusi, who is reported to be a serving soldier­, is at large.
At about 10.00 a.m. on October 27, this year, Warrant Officer (WO) II Ali Ibrahim of the 2nd Infantry Brigade in Kumasi spotted the three suspects in Kumasi, fully dressed in military uniform, and assuming that they were true soldiers, he tried to fraternise with them.
Asare told WO Ibrahim that he worked with the 37 Military Hospital in Accra, while Amoateng was based in Tema, explaining that they were in Kumasi to visit Kusi. They further said they were accompanying Kusi to buy cement from Buokrom, a Kumasi suburb, to carry out some repair works on his house.
WO Ibrahim was not quite convinced with their explanation but advised them to maintain professionalism and, if possible, change into mufti so that nobody would accuse them of harassing the public. So saying, he left them.
In less than an hour, WO Ibrahim spotted the three men at a funeral at Abirem, near Kenyasi in Kumasi, and questioned them about their mission there. Asare was said to have responded that Kusi had lost a relative so they had accompanied him to the funeral grounds.

WO Ibrahim then questioned them about who their Commanding Officers (COs) were and Asare mentioned Sergeant Asante as his CO and WO Agyei as his Regimental Sergeant Major (RSM).
On hearing that, WO Ibrahim became suspicious of the three because before anybody could qualify to be a CO, that person should at least be at the rank of a Lieutenant Colonel and not a Sergeant.
At that point, he asked them to come on board his car so that he could take them home to change because it was not proper that they used military uniforms for such events.
Asare and Amoateng readily obliged, while Kusi, who was then riding a motorbike, told them that he would rather follow them with the bike.
On reaching the Asawase Police Station Junction near the Kumasi Airport Roundabout, WO Ibrahim attempted branching there to hand them over to the police. But the suspects, sensing danger, opened the doors of the car, jumped out­ of the moving car and started running away.
Some of the policemen on duty at the station and some residents spotted the suspects running and pursued them for some minutes before eventually arresting them.
During interrogation, Asare and Amoateng told the police that they were not military men but that Kusi was, adding that Kusi made them pay GH¢500 (¢5 million) each to facilitate their enlistment into the military.
He said the uniforms they were wearing belonged to Kusi and that when they visited him that Saturday, he asked them to wear them so that they could accompany him to the funeral.
Meanwhile, Commander Kumah has told the Daily Graphic that initial police investigations are linking the suspects to a ­robbery syndicate that is currently operating in the metropolis and its surrounding communities.
Story by David Owusu-Antwi