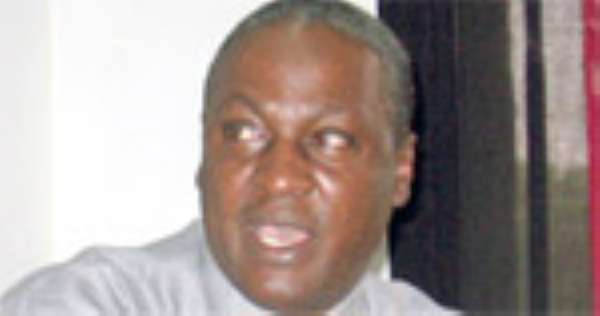 DAILY GUIDE has learnt that Prof. John Evans Atta Mills, presidential candidate of the National Democratic Congress (NDC) will soon announce the name of his running mate in the 2008 general elections.
Reliable sources at the party's headquarters at Kokomlemle in Accra hinted that the former vice president is likely to come out with the name before the end of next month.
The sources said three people, including the Member of Parliament for Bole/Bamboi, John Mahama, as well as former MP for Kumbungu and running mate in the 2004 elections, Alhaji Mohammed Mumuni, have been short-listed.
They added that the list was presented to the party's National Executive Council (NEC) at a meeting recently.
According to the sources, the nomination of a running mate before the end of this year would not only help to ease tension on the flagbearer, but also afford the NDC the opportunity to prepare adequately towards next year's battle for the Castle.
Party founder, Jerry John Rawlings recently summoned NDC gurus to his Ridge residence for an impromptu meeting, with the issue of Mills' running mate as the sole agenda. Prof Mills was not at the meeting.
After the meeting, Mills' spokespersons said the flagbearer would not be stampeded into naming a running mate. When contacted, Baba Jamal, NDC deputy general secretary confirmed to DAILY GUIDE that Prof. Mills would indeed name his running mate pretty soon.
Mr. Jamal declined to comment further on the naming of the running mate but stated that NDC would, this time around, come out stronger than before to ensure that the ruling New Patriotic Party (NPP) was sent back into opposition.
Asked whether he would contest the Akwatia parliamentary seat again after two successive defeats, he stated emphatically that "nothing will stop me from contesting the Akwatia seat again. I strongly believe that I will win this time around."
By Grace Eyram Dartey