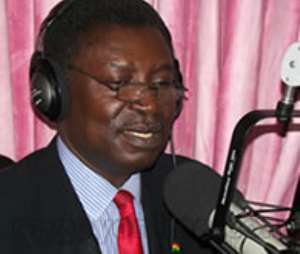 Professor Kwabena Frimpong-Boateng, Heart Surgeon and former Chief Executive Officer of Korle Bu Teaching Hospital in Accra, on Sunday said given the chance to lead NPP to Election 2008 as the flagbearer, would be a good omen for the party.

He said: "We do not need to enter the electoral battlefield with a lot of baggage to defend, that would mean arming our political opponents with ammunition to defeat us at the presidential and parliamentary elections".

The Heart Surgeon appealed to delegates to the party's Special National Delegates Congress on December 22, to avoid the mistake of electing any other candidate, apart from Professor Kwabena Frimpong-Boateng.

Speaking to newsmen in Accra, Prof. Frimpong-Boateng said he represented the new face of politicking in the country, criteria needed to attract floating voters and vital for winning Election 2008.

He asked the NPP delegates to give him the mandate to transform the nation, and set the country on the path of economic independence and emancipation.

The NPP Flagbearer aspirant tasked the delegates: "The power for total freedom is in your hands, use it wisely by electing Prof Kwabena Frimpong-Boateng as the flagbearer of NPP for Election 2008".

On the economy, Prof. Frimpong-Boateng reiterated his concern about Ghana's continuous dependence on the international community for basic facilities.
He said, "It is unacceptable that after 50 years of nationhood, about 80 percent of inputs into agriculture, education and health are from foreign sources".

"We cannot resource our institutions because we are not creating enough wealth. We are not creating wealth because it is taking us too long to change the structure of the national economy from a heavily dependent on the export of raw materials to the export of knowledge and technology".

"Our world is essentially driven by technology. Energy, agriculture, medicine and health, clean air and water, transportation, sanitation, management use and conservation of natural resources - all are based ultimately on science and technology," he added.

The Heart Surgeon stressed the need for Ghana to focus on science and technological advancement for national development.

He explained that every country's development depended on its ability to understand, interpret, select, adapt, use, transmit, diffuse, produce and commercialize scientific and technological knowledge in a manner appropriate to its culture, aspirations and level of development.

Prof. Frimpong-Boateng noted that the poverty gap was a technological gap stressing that: "The categorization of nations into advanced and developing is based on their scientific advancement".

"Low income levels go with low scientific and technological status, while high income levels correspond with high scientific and technological programme".

He said he wants to be president in order to address challenges resulting from problems associated with increase in the population size and complexity of the society.

Prof. Frimpong-Boateng said in modern, affluent and complex societies, institutions which made the population to survive and thrive needed the proper leadership for their effective maintenance.

Thus schools, hospitals, markets, industries, law enforcement agencies, political authority and many others more or less assumed the status of basic necessities, the collapse of which would lead to the breakdown of the whole society, he said.

"I am therefore, into politics to fix it all. I have done it before and I have the capacity to mend the nation. There is, therefore, no denying the fact that the quality of leadership that I would offer would directly influence the success of the country", he stressed.