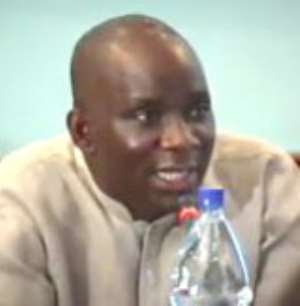 A leading Development economist from Northern Ghana, Dr. Sul1ey Gariba says the level of destruction suffered by Northern Ghana during the recent floods requires more than just bags of rice and bundles of used cloths.
Dr. Gariba told the dailyEXPRESS in an interview that while the relief efforts are welcome and must be encouraged, it is important to distinguish between relief and development support.
"What we need to do is not to leave people in a perpetual relief situation and hand outs; it will help people catch their own fish."
Dr. Gariba who is the Executive Director of the Tamale based Institute for Policy Analysis and a member of the Northern Development Forum, says what the affected victims, mostly farmers, urgently require are seeds to help them begin a new life on their farm especially as the new planting season approaches.
"The relief phase should not be more than six months" he said. "Before the farming season the people need to be assisted to get the seeds they need in order to help them."
He also disclosed that there are lot more displaced victims who are still yet to be reached two months after the torrential rains.
"There are some specific areas where people are internally displaced, especially those at the banks."
Apart from the long term reconstruction Dr. Gariba said another ugly incident that has gradually found its way out of the disaster is the incidence of rural-urban migration.
" ... others are using the opportunity to hang out in the bigger cites and many more are moving down south to swell up the numbers in Accra, Kumasi etc," he said.
He said these persons who migrate to the bigger cities in pursuit of their economic dream only end up frustrated and dejected, making them susceptible to crime and unwanted pregnancy.
According to Dr. Gariba, another problem that ought to be given serious attention is "those who have come to relatives and are putting pressure on relatives," adding that "the danger is that if something is not done for the people to have their homes back, it will be difficult for them to end the entire situation."
He was full of praise for NGOs whose immense support has somehow reduced what would have become a precarious economic situation.
Parliament last Friday called for a special fund to be set up to cater for the development needs of the northern regions.