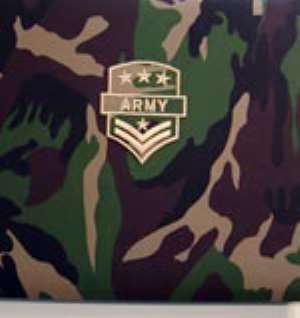 Armed robbers have killed a soldier and wounded two others who chanced upon them as they were robbing some traders at Nakpaduri Hill, in the Bunkprugu/Yunyoo District of the Northern Region.
The other soldiers said to be in critical condition, have been airlifted to Accra.
The incident occurred on Thursday night on the hill between Nakpaduri and Sakuwu.
An eyewitness said the robbers had stopped a cargo truck which was conveying some traders from the Bawku market to Gushiegu and were robbing them when "a pick-up pulled up with the three soldiers on board."
He said when the robbers saw the pick-up they opened fire on the soldiers and then bo1ted with their booty.

Police sources at Bunkprugu confirmed the incident saying that the dead soldier was shot in the head while the others were hit in the abdomen and shoulder.
Majeed Salifu, presiding member of the Bunkprugu/Yunyoo Assembly told the Times that many robbery cases had been recorded in the area.
"About three or four armed robberies have taken place in the area within the last two weeks," he disclosed.
Mr. Salifu said a pick-up vehicle belonging to the Bunkprugu Mutual Health Insurance scheme was attacked by armed robbers on the same hill last month.
The District Chief Executive for the area, Ms Elizabeth Pigir Poyari, said the matter has been reported to the Northern Regional Security Council.