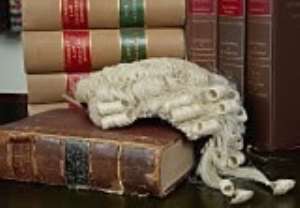 First it was missing dockets at the Courts but now it is about missing computer and its accessories.
Ghana's judiciary seems to be under siege as some unscrupulous thieves have shown total disrespect to the law courts by ransacking the Commercial Court in Accra and bolting away with dockets and computer containing proceedings of over seventy cases.
The operation which was done in the night after the close of work last month, brought activities at the court to a stand still the following morning as court officials, judges and lawyers could not have access to information about some of the pending cases for the continuation of hearing.
Our investigations showed that it was Justice Kwotie's Court which fell victim to the thieves' ungodliness.
It is being speculated in the judicial circles that the Judge might have been hearing an influential case and the parties involved might not like the way the case was going hence their quest to abort the trial.
The court administration upon realising that those valuable items were stolen filed a complaint at the Accra Central Police Station.
Meanwhile, other underground checks by this paper revealed that the security personnel who were on duty at the time of the crime were dragged to the police station to write their statements.
Some of the security officers who spoke to this paper on condition of anonymity when this paper visited the court last Wednesday expressed worry as to why they were being accused of having knowledge of the whereabouts of the missing computer and dockets.
They were of the view that they should not be implicated in the case since they have no access to the court room and the offices.

To this end, these security officers alleged that those working within the court should be queried and held responsible for the missing items, adding that "one of them must have masterminded the act"

However, some of the lawyers who have their cases at the court have threatened to file a petition demanding for thorough investigations into the missing items.
According to some of the lawyers the missing of the dockets is stalling ruling in their cases and felt the Administration must act fast in getting to the tail end of the matter as soon as possible.
"It is difficult for one to believe this. I was very surprised when I heard of this story looking at the security system in place. What is the person going to do with the dockets" a lawyer asked.
Frantic efforts by this paper to talk to the court administration proved futile.