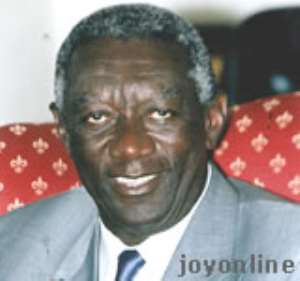 President J.A. Kufuor on Saturday asserted that his government has done more for the Volta Region than all previous governments.

In his address read at the Gbi-Dukorza (Festival of the Gbis) in Hohoe he said, "I have identified fully with your requests and have gone ahead to do more for the region than any past government".

The theme for the festival was "Education Development and ICT, the Future of Gbidukor".

The Chiefs and people defied a torrential rain to display their rich cultural heritage and values of the Gbis comprising the Gbinyigbe, the Pekis and Gbidzigbe (Hohoe area).

President Kufuor said a cursory observation of development projects and the time span over which they were executed demonstrated the magnitude of government's efforts put into the development of the region.

He said the government was committed to packaging various festivals into major international events and called for the remodeling of such festivals.

Mr Joseph Kwaku Nayan, Deputy Volta Regional Minister appealed to traditional leaders to shun disputes in their areas and remain united and partners in promoting peace and development.

He urged all to collaborate with the security agencies in their duty to flush out criminals and make their communities safe.

Togbega Kwadzo Dei XI, Deiga of Gbi-Anyigbe (Peki) announced that the festival would be celebrated once every other year in North America or Europe to broaden its scope and give it an international dimension.

He commended government for elevating the Hohoe district to a Municipal status and appealed for the removal of bottlenecks for the smooth implementation of development projects, especially ICT and road network connectivity saying, "these stimulated rapid development."

Madam Rose Atiegar, Chairperson of the National Steering Committee of the celebration recounted successes of the festival to include tree planting, dress codes, exchange of visits and a proposed Gbi Rural Bank.