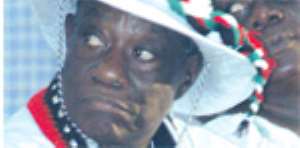 The opposition National Democratic Congress (NDC) appears to have suffered a major setback in the Upper West Regional capital, Wa.
The previously prominent offices of the party in the regional capital have lost their shine with most of them no longer operating.
The Upper West's situation is similar to other regions, especially Ashanti Region where 28 constituency offices have been shut down with the regional office operating from the chairman's residence.
Apart from the regional office, the Wa township is housing three other offices for the Wa West, East and Central constituencies.
DAILY GUIDE gathered during a survey of the offices that some of them have been forced to close down for defaulting in the payment of rent, and non-payment of salaries of executive officers of the party.
Conversely, there has been a phenomenal growth of the ruling New Patriotic Party (NPP), and their colours have dwarfed those of the NDC in a region considered as one of the latter's strongholds.
The low-key activities of the NDC are now held at the residences of the mostly dormant executives.
Although the region boasts of two outspoken Members of Parliament (MPs), they appear to have been helpless in arresting the deteriorating situation of their party in the region.
The party's vehicles are not operational, and are parked at the homes of some executive members.
The situation is the same in other constituencies in the region where sheds used in carrying out party activities have not only changed their colours but are no longer used by those who patronized the political grouping previously.
DAILY GUIDE gathered that the situation is slightly different in the Nadowli East and West constituencies where relatively active offices still exist.
Some executive officers who pleaded anonymity told this paper that many offices ceased functioning soon after the 2004 polls.
The overall dismal situation has led to rampant defections from the NDC in the face of unusually aggressive NPP campaign strategies.
DAILY GUIDE has also learnt that a feud between the MPs and some executive officers has added to the appalling situation.
Rumours about a "skirt and blouse" voting pattern, to remove what some aggrieved party faithful have described as stingy parliamentarians, are making the rounds in the region.
In a chat with DAILY GUIDE, the NPP Regional Chairman, Alhaji Abdul Rahman Abubakari said a survey by their party indicates that the NDC does not stand a dog's chance of winning a seat in the region in the next polls. The floating voters, he said, are turning to the NPP.
The NPP, he stressed, is harping on the issues of job creation and poverty alleviation being undertaken by the party in their campaign strategy.
He said the region has become a treasury of the NPP, adding that the recent defections to hit the NDC attest to that.
From Stephen Zoure, Wa