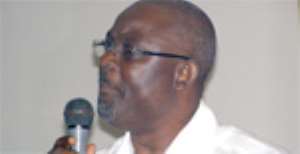 THE PRESS Secretary to the President, Mr Andrew Awuni has cautioned Ghanaians not to make the mistake of giving power back to the opposition National Democratic Congress (NDC).
He explained that members of the opposition NDC are reluctant democrats who are only interested in getting power to victimise their opponents and anyone who believed in practical democracy; "NDC people had power for 8 years and additional 11 years as a military government and did not think about the transformation and progress of the nation."
Mr. Awuni made these remarks when he spoke to students of Koforidua Polytechnic at a forum organised by the Tertiary Education Students Confederacy (TESCON) of the ruling New Patriotic Party (NPP) on the campus of the polytechnic last week.
According to Mr Awuni, NDC members who are very desperate are using all deceptive means to convince or coerce Ghanaians to vote for them again, and asked Ghanaians to be very wary of such destructive politics by the NDC.
He indicated that the ruling NPP has proved beyond all reasonable doubt that it has the direction, ability and capability to lead Ghanaians into the middle income bracket after just 7 years of rule.
"The NDC was narrow-minded and thought of its parochial interests when it was in power but the NPP is thinking about the whole nation and has sent development to all parts of the country without any form of discrimination," he said.
According to the Press Secretary of the President, the NDC, due to its intense desperation, would try to use the findings of the on-going Public Accounts Committee hearing to brand the NPP as corrupt.
"This would be just a red-herring because in reality, the NPP government is doing this in public to show that it does not in anyway condone corruption and would thus let all officials account for their stewardship," he noted.
He averred that the public hearing of the committee's sitting is a sign that the NPP does not give lip-service to probity and accountability unlike the NDC which was always preaching probity and accountability but at the same time lacked transparency and shielded its corrupt officials.
Mr Awuni therefore asked Ghanaians to compare PNDC/NDC's 19 years of rule to NPP's 7 years and draw their own conclusions.
"The NPP has introduced School Feeding Programme, Capitation Grant, National Youth Employment Programme, National Health Insurance Scheme and stabilised the economy, resulting in the blossoming of the financial sector with over 20 banks now operating in the country," he stressed.
Mr Awuni also took the students through the political history of the country and was hailed for his intelligent presentation.
From Thomas Fosu Jnr, Koforidua