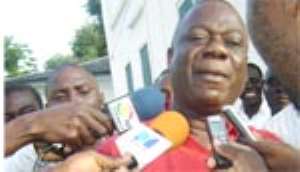 GEORGE AGGUDEY, the defeated flagbearer of the Convention People's Party (CPP) in the last general elections, who is seeking a second chance to lead the party in the 2008 elections, on Monday lost his cool and verbally attacked some journalists who were at the CPP Headquarters to monitor the submission of forms.
Mr. Aggudey, who came to the CPP Headquarters beaming with smiles, could not control his anger and went into tantrums after a barrage of questions, which he apparently considered insulting, were thrown at him.
Initially, Mr. Aggudey thought he was on top of issues and confidently led journalists on to ask him questions. However, when it was pointed out to him that he was not 'marketable' since he had already lost one election, he discarded that suggestion, citing J.F. Kennedy, the late United States (US) President who, he said, lost four successive elections before finally winning to become one of the most respected presidents of the US.
When one of the journalists persistently taunted him that he was really not 'marketable', Aggudey burst out and said: "It is you who is not marketable! It is you!
You join other political parties and you come to CPP premises to come and do what…don't let me use the word on you," in apparent reference to other contenders whom he regarded as having deserted CPP to join other parties.
He however said it was refreshing that he had been able to manage the party for it to be attractive for others to come and contest for its flagbearership.
When some of the journalists reminded him that his critics considered him as not capable and that he did not have a chance at the CPP congress, let alone the national election, Mr. Aggudey hit back and said:
"It is you! It is you! What chance do you have in life? You tell me. I am better placed in life than you are! You annoy me so much!"
On-lookers, including party faithful who were at the CPP Headquarters were amazed at the turn of events and completely at a loss for words.
One of the constituency executives (name withheld) said, "If our aspiring candidate cannot take these small comments which do not come near what Kufuor and Rawlings have been going through, how can he convince us that he is the best choice for us?"
He told journalists earlier that he was only going through the formalities since his chances of winning the flagbearership were a foregone conclusion.
Mr. Aggudey submitted his form, other requirements and a cheque for Gh¢10,000 (¢100 million) which were accepted by Prof. Nii Noi Dowuona.
The CPP Headquarters bounced back to life once again as several of the aspirants and other contestants set the place agog with all manner of musical displays.
In a related development, the Ghana Journalists Association (GJA) on Tuesday expressed disappointment over the unfriendly behaviour of Mr. George Aggudey towards media personnel who went to cover his filing of nomination at the CPP headquarters.

"We consider Mr. Aggudey's outbursts and threats of assault against some members of the media most unfortunate and rather uncomplimentary of someone seeking both political and public office," Mr. Bright Blewu, General Secretary of the GJA said in a statement issued in Accra.

The statement said although many of the questions raised by some of the journalists appeared harsh, they were of merit and could therefore not be termed provocative.

It noted that the kind of intolerance demonstrated by Mr. Aggudey could not be helpful in fostering civility, mutual respect and good governance which formed the basis of nurturing functional multi-party democracy.

The statement called on all Ghanaians, especially politicians, to be civil and tolerant towards the media, particularly in an electioneering year for the sake of nation building.

It said the association would continue to impress upon members of the media to go about their duties with great professionalism.
By Wisdom Peter Awuku