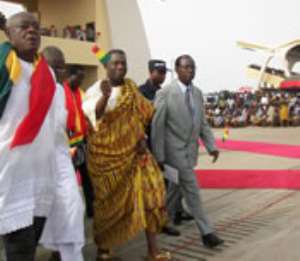 The National Democratic Congress has dissociated itself from media publications suggesting that the party, along with three others in Parliament, want the law on "willfully causing financial loss to the state" repealed.
Presidential candidate, Prof. John Evans Atta-Mills has told Joy News the publication, carried by the Daily Graphic cannot be true.
The national daily attributed the decision to an outcome of a meeting of the parties, also including the New Patriotic party, the Convention People's party and People's National Convention, as well as other policy analysts, who jointly signed a statement and committed to undertake the necessary education required to create an appropriate environment that would enable the law to be repealed.
The four general secretaries of the four parties were reported to have agreed that the continued existence of the law on the statute books was inimical to any genuine effort to promote reconciliation and goodwill among political parties and players in the country.
But Prof Mills says no such decision was taken and the party's position is that the law must be allowed to work.
Asked if the party was opposing the repeal of the law to enable it also use it against its opponents if the party resumes the reigns of power and employ it as a 'pay back', Prof Mills said while he believed that vengeance was of the Lord, he believed the law should be allowed to function to combat corruption.
He maintained that far from employing it as a retaliatory tool, he was not in a position to ascertain that anyone in government was willfully causing financial loss to the state.
"I want to state with any equivocation that I do not support the repeal of the law, but let me also tell you that Atta-Mills is not vindictive, vengeance is not mine, but Atta Mills will insist, that the laws of the state be applied, without fear or favour."
Prof. Mills said the matter was a grave one and if there was need to repeal the law, it required widespread consultations to arrive at a consensus.